Supercomputer Weather: US Fires Forecast Hot & Dry
A 12 day weather forecast from the NOAA medium range supercomputer forecast model shows soaring temperatures throughout the Mid West of the United States, and few signs of rain through till July 5th.
The series of images below shows daily high temperatures and wind vectors (the arrows) each 24 hour hours through till July 5th, the end of the NOAA forecast period. Links beneath the pictures will take you to larger more detailed maps showing isobars and rain for each day.
According to this forecast there is no sign of either a fall in temperatures below daily temperatures in the mid-fourties Centigrade, nor any rain over the fire ground for the next 12 days.
At the end of the period temperatures are expected to be even higher than they are now.
While the accuracy of the supercomputer forecast model tends to drop off the further out the forecast is, NOAA's MRF model is often very good at predicting underlying weather patterns for a considerable period.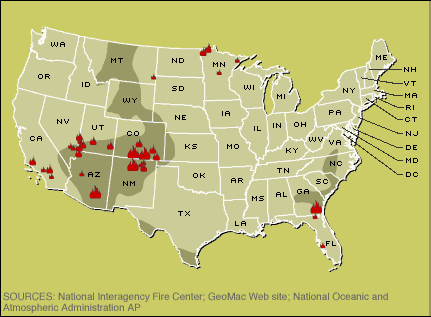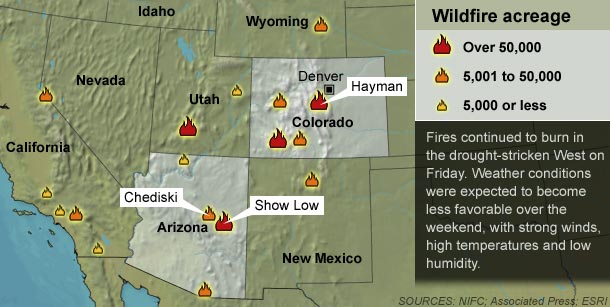 Two CNN Fire Ground Graphics
See.. Arizona firefighters battle wall of fire
The NOAA forecast is closely matched by… http://www.weather.com/ - Arizona City Forecast Through to Jul 2. Weather.com's forecast shows daily high temperatures of 42 to 44 degrees Centigrade (and overnight lows of 23 or 24 degrees) for the next nine days.
For comprehensive updated coverage of US Wild Fires see..
Yahoo Full Coverage: http://dailynews.yahoo.com/fc/US/Wildfires_and_Forest_Fires/
NOAA MAPS
June 23
June 24
June 25
June 26
June 27
June 28
June 29
June 30
July 1
July 2
July 3
July 4
July 5