Babylon Express
The Babylon Express


--> To The Latest Babylon Express Headlines
--> To The Babylon Express COLLECTOR'S EDITION Subscription Offer
--> Jump To The Babylon Express Online Subscription Form
Savage adj. In a state of nature…uncivilised: ferocious: furious – n. a human being in a wild or primitive state: brutal, fierce, or cruel person.
Sardonic adj. Scornful, heartless, or bitter, said of a forced unmirthful laugh: sneering.
Satire n. a literary composition…essentially a criticism of folly or vice, which it holds up to ridicule or scorn – its chief instruments, irony, sarcasm, invective, wit, and humour…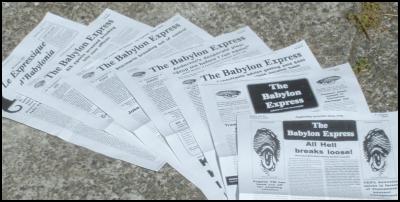 Yes It Comes On Paper! The Collector's Edition
BY SUBSCRIPTION ONLY

An exclusive offer from Babylon Express editor-in-chief Felix Fallax



Hello, and welcome to The Babylon Express where we believe in providing YOU with quality content especially tailored to fit the needs of the uber-modern, on-the-go consumer.

The Babylon Express editorial team takes great pride in delivering unflinching, up-to-the-minute coverage of the issues that shape YOUR world. We firmly believe that no topic is too big to be tackled, nor too small to be detailed. In addition, our dedicated journalists are paid a subsistence wage and regularly beaten to keep them focused on bringing YOU the finest truth an international press agency and various public relations firms can provide.

That's why we're offering YOU the chance to join the growing number of subscribers who have adopted The Babylon Express as their information-source of choice. So why delay – contact us today to receive the sanest news possible in an insane world.

THE OFFER

For just $4 a month we will get our underpaid staff to add your name to the address list for the print edition of Babylon Express. With the print edition you get the latest news WHEN IT IS FIRST PUBLISHED and not several weeks (if not months) later as is often the case with the Scoop Email version.

To subscribe click on the button below and enter your details into the forms that follow.





We also accept one off donations, you name your price...






THE BABYLON EXPRESS ONLINE HEADLINES

PM Hits Out At "Reckless" Seeking Of Official Information (Satire) - The Prime Minister has accused some New Zealand citizens of subverting democracy by seeking official information for political reasons. In a statement today, Helen Clark said some private citizens and organisations were "unwilling or unable" to simply accept official information as it is presented. See... NZ Citizens "Subvert Democracy" (Satire)


Babylon Express Satire: Brian O'Driscoll Exclusive IV - Brian O'Driscoll, whose shoulder was dislocated in a controversial tackle by All Black's Tana Umaga and Kevin Mealamu during the Lion's tour here this year, has released an account of his experiences in The Guardian newspaper. See... O'Driscoll's "Exhilarating Sensation Of Flight"

The Shortfalls Of Shortage - Where there is demand a supplier, whenever possible, will provide; this is the first law of economics. It is also the first law of the street - and in the streets of a once-proud capital, there is a demand being met by means illegal that has police and community groups alarmed. Welcome to the world of illicit caffeine.
See... Satire: The Rise And Rise Of Illegal Caffeine and Capital In Crisis As Coffee-Shortage Kicks In

AWOL - Bolting Off Into The Never Never - Hutt Valley suburb Wainuiomata was still unaccounted for this morning, despite intensive police efforts to recapture the renegade township after it escaped from its basin enclosure in a daring bid for freedom. See... Scoop Satire: Wainuiomata Escapes!

Scoop Satire: Dr Ruth Goes To The Beehive - Got a problem? Need an official answer? Ask the Minister, for the official Government answer to your problem... See... Babylon Express: Ask The Minister...

Babylon Express: Selling Your Soul To Be Decriminalised - Optimus Prime Helen Clark is the latest and most influential Member of Parliament to come out in public support of the proposed Corporate Prostitution Act currently in its second parliamentary sitting. See... Scoop Satire: Decriminalising Whoring Your Soul

Babylon Express: Operation Limb Liberation - Baghdad: US military officials are hailing the liberation of a 12 year old Iraqi girl's left foot from her leg as a "huge step forward" in winning the battle for the 'hearts and minds' of the Iraqi people. See... Scoop Satire: Iraqi Girl's Foot Liberated From Leg

Satirical Images: George W. Bush The Actor - The following set of images depicting U.S. President George W. Bush in a variety of starring roles was kindly sent to Scoop by a reader. The sources of the images are not known. Some you may have seen before, some you may not have seen… See... Scoop Images: GWB Goes To Hollywood

The Mystery Of JessicaLynch.Org Is Solved - Another day another inexplicable event on the world wide weirdness. This time we have the odd case of the prescient registration of an Internet Domain Name. See... Scoop Mystery: Inventing Private Lynch? Or Not…

Babylon Express: McDonalds 13th Hour Peace Plan - At 3:42am GMT fast-food chain McDonalds announced a scheme aimed at breaking the US-Iraq standoff, after a multimillion dollar consultancy with pundit Thomas Friedman, originator of the specious Golden Arches theory, which holds that America will not bomb any nation which has unquestioningly opened itself to exploitation by American companies, and accepts its economic and political subservience to the empire. See... Scoop Satire: McDonalds Launches Iraq Peace Plan

Scoop Satire: Blair Reappointed Cheerleader - British Prime Minister Tory Blair has been re-elected as head cheerleader for the US Government State Department for the 3rd year running….&… Israeli Prime Minister Ariel Sharon today delivered a personal message of reassurance to Palestinians about his governments desire for a meaningful peace in the conflict ridden region. See... Scoop Satire: International News Briefs

Babylon Express: Dangerous Men Who Speak Alike - "If there is a person, then there is a problem. If there is no person, then there is no problem." - Saddam Hussein - "Many others have met different fates. Let's put it this way: They are no longer a problem to the United States and our friends and allies." - George W. Bush. See... Bush & Saddam In Speech-Notes Swap Scandal

Guest Satire: $30 Billion Is A Lot Of Cake - In a stunning development, Iraqi President Saddam Hussein today offered to attack himself in exchange for $30 billion from the U.S. government. See... Saddam: For $30 Billion, I Will Attack Myself

Disarming The "Littlest Terrorist" For the professionally trained soldier, few assignments are as daunting as isolating and neutralising an 8 year old boy armed with nuclear weapons. See... Scoop Satire: Eradicating Timmy The Terrorist and Scoop Satire: Timmy The "Littlest Terrorist"

Babylon Express: Who Will Be The Next Iraqi Dictator ? -United States President George Bush Junior continued to up the ante on arch-nemesis Saddam Hussein last night by releasing a list of potential candidates that may be called up to replace the Iraqi dictator if, as expected, he is deposed during the soon-to-be-released multi-military media extravaganza Gulf War II: Oil's Well that Ends Welled. See... Scoop Satire: Iraqi Post-War Candidates List

- Man With No Sporting Ability Arrested For Attempting To Comfort Sick Children
- Captain Ahab Named On Christian Coalition Party List
- Security Service Accidentally Classifies Itself A Threat To National Security
- US Introduces Innovative Environmental Scheme
- 911 – The Questions Begin: 'Where Was Bruce Willis?' Demand Angry US Citizens
- Cloned Newsreaders Go On Rampage!
- Listen to your Editors
- Job Bones Sues Woman For Failing To Recognise
- Achtung Subversives!
- New 'Caring Missile' Aims To Soften The Blow
- Capitalism On The March
- Starmarts Breeding Out Of Control
- Crash To Host 'Black Breakfast' To Keep Economy Growing
- Pitzfatrick Converts
- New AI Computer Addicted To Sitcoms And Playstation
- New Zeal Inc Cricket Unveils Tomb To The Unknown Medium-Pacer
- Bill Englitch has shit kicked out of him to raise public awareness of Bill Englitch
- Leaked Treasury Report Suggests Economic Growth "Not Worth The Bother."
- English PM has hand cut off for stealing chicken
- American hypocrisy levels threatening fabric of reality warn physicists
- Anderton's desperate plea: "Stop me before I run again!"
- Do Away With 'Archaic' Gregorian Calendar - Curdled
- Advertising Executive Gene Discovered
- New Approach To Mathematics In Pipeline
- Genetically Modified Tomato Gives Birth
- Joke Gets Moron Crew Fired
- Brian-Drain Figures Continue To Rise - 412 Brians Leave Shores In 6 Month Period
- Ellen Tuff Recieves Honorary Award
- Business Confidence Disappears Up Own Arsehole
- Leaked Treasury Report Suggests Economic Growth "Not Worth The Bother."
- Northland Warns Of Karori Expansionist Aims
- Consultants Advise Getting Paid $400 An Hour And Cocaine Habit
- Racist Support Group Up And Running
- Kelburn couple traumatised by home poetry invasion
- Meeds chases moneychangers from NZRFUKU headquarters
- Awatere Walls Drip Blood
- Mudcoch to buy Taihape