MOTORNET - Scoop Motoring
Welcome to Motornet, Scoop's motoring news and review page. Archived on this page are the Motornet columns written by Scoop's motoring writer Karl Ferguson. Motornet is also a free email column which can be subscribed to by
CLICKING HERE
....
MOTORNET'S LATEST:
MOTORNET: Solid Citizen
With the on-going volatility of petrol prices, the tide appears to be turning against the large Sports Utility Vehicle, but we shouldn't be too hasty in tarring all such vehicles with the same brush. People like SUVs. They like the feeling of safety and security; they like the imposing ride-height and they like the versatility. They don't like some of the inherent...
More >>
MOTORNET: Close Encounters - Volvo S80 3.2
There's a reason that Volvos have a reputation for being safe cars. That's because they are. Up until recently, I have never needed to know first hand just how safe - I have always taken them at their word and indeed the word of many of the finest new car crash performance testers from around the world.
More >>
MOTORNET: More Than Meets The Eye
It would be easy to dismiss the latest Honda Legend as just another attempt by a Japanese carmaker to get a slice of the luxury car territory. After all, the paying public is spoilt for choice when it comes to luxury sedans and it's generally the Europeans who dominate the segment, with Lexus being the notable exception...
More >>
MOTORNET: Playstation Effect
At first blush, I was beginning to wonder what all the fuss was about. Commuting in a WRX STi Spec R mid-winter, as the rain came down and the windscreen wipers heaved, it was hard not to focus on the 'super-Subaru's' apparent shortcomings - the generally unforgiving ride, the clutch that exercised the calf muscle in my left leg more than...
More >>
MOTORNET: Baby Swede
A cynic might suggest that a red Volvo is a good way to get attention for a new model, but believe it or not, Volvo have a tradition of producing red cars, especially when it comes to the smaller vehicles of the range. In fact, I distinctly remember driving both a red 360GLT and 440, so it came as no surprise that the spiritual successor to both these models, the C30, carries on the tradition.
More >>
MOTORNET: Solid citizens
- There are times when technology, rather than aiding us, seems frankly more inhibiting than anything else. It was this thought than ran through my mind after a few days with Volvo's latest offerings. Despite a week respectively with both the V70 and its brethren the XC70, the electronic park brake continued to provide me grief.
More >>
MOTORNET: Best Of Both Worlds - Volvo C70
- It's easy to feel smug in a convertible. It's also easy to feel a bit of a git. On the one hand you're confident that people are looking at you enviously as you cruise with the top down, the sunlight reflecting stylishly on your sunglasses. But there's also a sneaking suspicion that everyone's secretly laughing at you. After all, you're putting yourself out there as if to say, 'this is cool, don't you want to be like me?' And that has its price as I was to discover.
More >>
Motornet: A Big Ford & A Bigger Ford
- It's been a few years since I last drove the Escape, Ford's early 'new century' answer to the unprecedented Sports Utility Vehicle (SUV) demand. The Escape offered a welcome alternative to a heavy and gas-guzzling full-sized SUV for a lot less money, while still offering the high riding drive and off-road respectability that proved so popular. See...
MOTORNET: Boost For Ford Territory & Escape
Motornet: Karl Ferguson Reviews A Korean Diesel
- It's getting to the point that to be a credible importer of vehicles into New Zealand these days, you need to offer at least one diesel powered vehicle in your passenger car line up (though some prefer hybrids). This is good news for consumers as diesels tend to offer the best of both worlds – good fuel economy but good performance as well. See...
MOTORNET: Diesel Kia Leads Lineup
Motornet: Karl Ferguson Gets A Thumbs Up For The Alfa 159
- The motorway into the city was unusually deserted for a Saturday evening but perhaps not surprisingly given the lateness of the hour. The Nissan Skyline was virtually abreast of me when I noticed it, its passengers craning their necks as they came alongside of the matt silver Alfa 159. See...
MOTORNET: Muscled-Up Italian - Alfa 159
Motornet: Karl Ferguson Checks Out 2 Merc SUVs
- I can't be sure exactly what the cyclist was saying, but his sentiment was clear. It had a lot to do with his shaking fist and angry expression. It seems that while driving to work one typically late spring morning (overcast, cold) I had strayed into a cycle lane and was impeding said disgruntled cyclist. Strange really, as I wasn't doing anything differently from any other day – same route, same turning lane, same everything. But I had forgotten one thing. See...
MOTORNET: Heavy Hitters
MOTORNET: Karl Ferguson Takes A Lexus For A Spin In The Rain
- "You know, that really is a good looking car," my boss said rather wistfully as he stared out my office window at the car-park five floors below. "In fact, it's probably the first Lexus I would seriously consider buying." See...
MOTORNET: Sexy Lexy? – Lexus IS250
Motornet: Karl Ferguson Takes On A Pair Of Ford FPVs
- Toxic terror yellow, caped crusader blue – is it possible that Ford's FPV colour palette has in some way been influenced by comic book super heroes – or anti-heroes for that matter? Judging by the sheer luridness of the test GT and Typhoon vehicles you could certainly be forgiven for thinking so. All that's missing are a few conveniently timed 'crunches' and 'kapows.' See...
MOTORNET: Ford FPV - Comic Book Capers
Motornet: Karl Ferguson Takes A Spin In An Alpha
- Ferrari, Maserati, Lamborghini – Italian exotica that causes most men to go just a little weak at the knees at even their passing mention. Unfortunately, such exotica is usually well beyond the reach of most mere mortals, which is why Alfa Romeo is such a god send. The gorgeous looks, the smell of the leather, the exquisitely machined and sexy alloys, everything about Alfa Romeos is alluring. See...
MOTORNET: More Than Skin Deep – Alpha 147 Hatch

Motoring: Karl Ferguson Plays At Being James Bond For A Day
- How can something as common as an engine noise sound so magnificent? After all, it's just cylinders and exhaust working in unison and yet, there's nothing quite like the sound you hear from Aston Martin's latest, the sublime Vantage. And then you go through a tunnel and everything is magnified by ten and you know that heaven on earth is attainable after all. See...
MOTORNET: Advantageous Acquaintance

Karl Ferguson Takes Out A Hot & Economic Red Korean
- When it comes to cars, $16,690 is not a lot of money to hand over for a brand spanking new model. In fact, you can't do any better, and with its new Picanto, Kia is clearly banking on this to ensure its latest effort rolls off the showroom door. Prior to picking up the Picanto, I had spent a week behind the wheel of Mercedes' S500 uber sedan, so I had a pretty good idea of what people expect in a $280,000 luxury car. But what do people expect at the opposite end of the market? What will your hard-earned dollars buy you? See...
MOTORNET: Picanto Style

Motoring: Karl Ferguson & Peugeot's 407 Diesel
- Sophistication is a quality that more and more people are beginning to expect when it comes to diesel cars. The knock-knock-knock of a cold diesel engine chugging into life and the accompanying clatter from under the bonnet was all part of the experience a few years ago, but not any longer. See...
MOTORNET: Sound Of Silence

Karl Ferguson Reviews The Mazda 6 MPS
- Want to build yourself a Q car? Simply take your standard sedan, add a modest body kit and some more performance oriented options like upgraded engine and brakes, and presto, you're done. Jaw dropping expressions from big Holden and Ford drivers when you leave them at the lights comes at no extra cost. Well, that's the theory anyway. See...
MOTORNET: Q car, Mazda style

Motoring: Scoop Motornet Takes A Ride In A New Jeep
- A little travel weary, I pulled Jeep?s new Grand Cherokee into the gas station for a fill up before heading home. ?Can anyone see a diesel pump?? I enquired fairly innocently. I was met with initially silence, before one passenger sounding rather surprised responded, ?A diesel? Are you sure this thing doesn?t run on petrol?? See...
MOTORNET: Grand Touring, Jeep Style

Karl Ferguson Likes The Lines Of Peugeot's 206 GTI
- Is the 206 GTI the best looking hot hatch of all time? In brilliant cherry red, and despite being more than a little long in the tooth, the little Peugeot looks stunning. Colour coded body mouldings, neat rear spoiler, front fog lights, 17? alloys and chrome exhausts all add to the picture of a sensational looking small car. See...
MOTORNET: Peugeot Twins Turn On The Charm

Karl Ferguson Takes A Ride In A Couple Of Beamers
- The BMW X3 and the latest 1-Series may not have a great deal in common on the surface. After all, one is tagged a Sports Activity Vehicle by BMW?s PR department, while the other an upmarket hatch competing with the likes of the VW Golf and Alfa Romeo ... See...
MOTORNET: Two Cars, One Engine
Motornet: Karl Ferguson Test Drives A Mini Cooper S
- The girl at the drive through window was about 16. I hadn't paid her a great deal of attention to be honest, most likely trying to decide between a Big Mac or a Chicken Royale, when just as I was about to order she gushed, 'Your car is really cool.' See...
MOTORNET: Still Got It - Mini Cooper S

Motornet: Diesel Peugeots Delight
- There are plenty of reasons why punters are attracted to French vehicles, and in particular, the offerings of Peugeot. Flair, original design, plush interiors and an almost guaranteed comfortable ride are some. Now there?s a couple more. See...
MOTORNET: Diesel Delights - Peugeot 407 & 307
Honda Reworks The Odyssey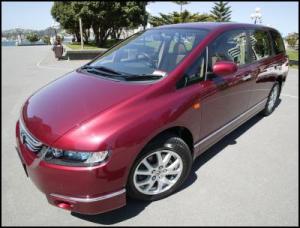 It's difficult to get excited at the prospect of a new people-mover or MPV (Multi-Purpose Vehicle) as they are more commonly known. See...
MOTORNET: Honda Reworks The Odyssey
Horses For Courses - Subaru 3.0R Spec B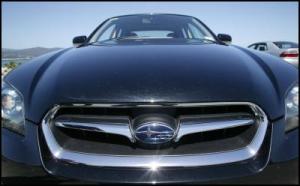 I'm not really into horses or horse racing for that matter. In fact, the last time I went to a racecourse was a few years ago while living in the US to a little place called Charlotte, Virginia. See...
MOTORNET: Horses For Courses - Subaru 3.0R Spec B
Jaguar's 'Character Building' S-Type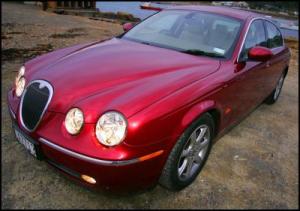 It's a Saturday night, and town is heaving. Courtenay Place is alive with people and cars of all shapes and descriptions cause a bottleneck in Wellington's party central locale. The Carnival red Jaguar S-Type looks oddly at home amongst the neon and glare of the night, the lights reflecting brilliantly across its gleaming paintwork. See?
MOTORNET: Jaguar's 'Character Building' S-Type
Roadster Wrangles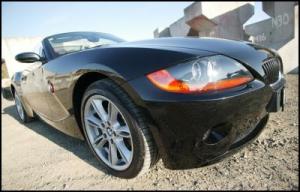 The open road, the wind in your hair, great music blaring and the sun glinting off your cooler than cool sunnies...it sounds like the makings of a Hollywood movie, the kind that starts with a long sweeping shot across the Nevada desert as the hero ... See...
MOTORNET: BMW Z4 - Roadster Wrangles
Smooth Operator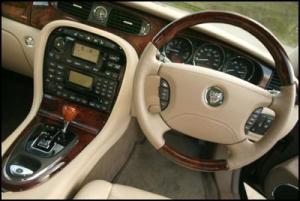 Smooth Operator - Jaguar XJ8
The midnight black Jaguar XJ8 gleamed in the late afternoon sunlight, its pristine paintwork accentuating its sleek lines. Lost in a reverie, as I moved stealthily through the traffic, I never saw it coming - that winged prey of doom and destruction - but it certainly saw me. The first I knew of the attack was when I heard the distinctive sound on the roof and seconds later my worst fears were confirmed when the evidence materialised on the windscreen and then the bonnet. See...
Smooth Operator - Jaguar XJ8
Pushing The Envelope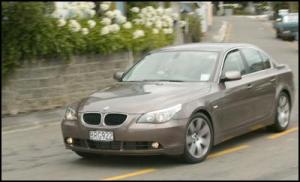 Pushing The Envelope - BMW5
The corner was long and sweeping, nicely cambered with a slight rise as it turned into a long narrow straight. Nothing special - typical even of the many roads I had been driving all afternoon in and around the South Wairarapa Coast and in my mind, the perfect place in the Wellington region to get to grips with BMW's new 5-Series. See?
MOTORNET: Pushing The Envelope - BMW5
Smarter Than Some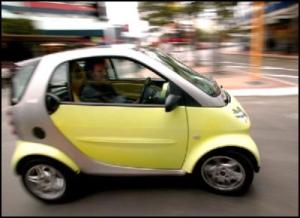 MOTORNET: Smarter Than Some
It takes a bit of getting used to driving a Smart car. People smile at you, sometimes even laugh and it's quite common for small children to point while pulling on their parent?s jumpers to get their attention. See...
MOTORNET: Smarter Than Some
A Saab With A Drop-Top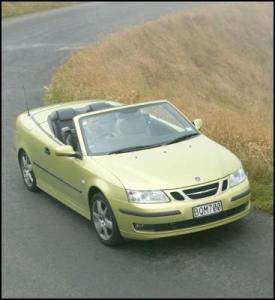 I have to confess to a certain scepticism when it comes to convertibles, and by extension, to the types of people who drive them. Call me old fashioned, but they rarely strike me as serious and in some regards, could even be dismissed as being frivolous. See...
MOTORNET: Saab Drop-Top An Eye Opener
Subaru's New Outback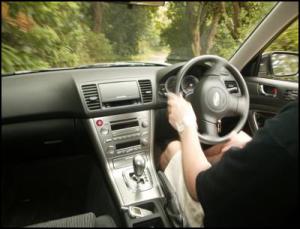 MOTORNET: Subaru's New Outback
We're travelling fast. It's late and we're overdue at our expected destination. The excellent bi-xenon headlights cast large shadows on the surrounding trees and countryside as they cleave a path for us through the night. See...
MOTORNET: Subaru Comes To The Party
Honda's Accord Euro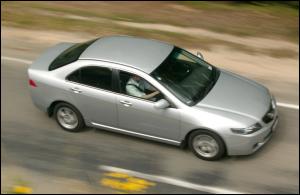 MOTORNET: You Can't Touch This
As a motoring writer, I have a problem with Honda's new Accord Euro. I knew I had a problem a mere five minutes after getting behind the wheel. You see, it?s so impressive that my overwhelming tendency - rather than to write a considered, well researched piece - was to simply advise anyone even remotely in the market for a mid-size sedan to buy the Euro immediately. No questions asked.
VW's TOUAREG
For a split second, the rear tyres scrabble for traction and there's the slightest hint that the Touareg might not make it up the muddy incline in high gear. But then we're over the hump and the big VW is off - no hassle, no fuss. It's the only indication I've had that this vehicle might not be invincible. But hold on a second - invincible? You might well be asking yourself ?since when do 'VW' and 'muddy inclines' even go together in the same sentence?' See?
VW Touareg - Just Fine Off & On The Road
THE BATTLE OF THE SUV'S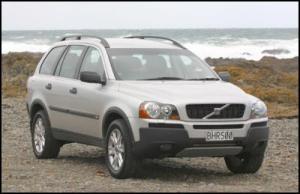 Motornet On The Battle Of The SUVs
Gone are the days when a simple station wagon or large sedan provided adequate family transportation, an SUV is now a must have. And this craze is reflected in the choice of SUV available ? there isn't a single major carmaker today that doesn't have at least one on offer. See...
MOTORNET: Volvo XC90 vs Landrover Discovery
SUBARU'S SCOOP!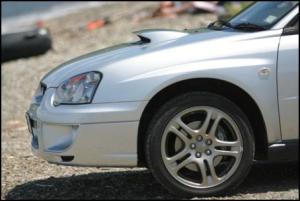 Subaru's Scoop!
Move, move, move I screamed silently at the little mid-eighties Barina, flat out at 50 km/h and hugging the right hand passing lane about half-way up Wellington's notorious Rimutaka Hill. Clearly, the Barina didn't have the guts to pass the even slower moving Ford, but its driver was determined to give it his best shot - much to my consternation I might add and cause for a steady stream of expletives from me.'Why the hell won't he just move the @#$$% over??, I asked rhetorically. See...
Subaru's Scoop!
AUDI AND THE POWER OF FOUR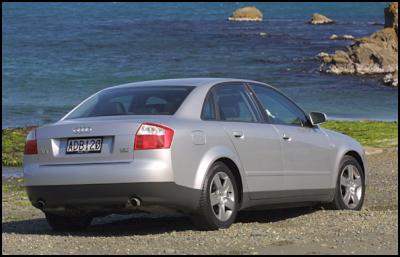 Audi expect big things from their new A4 and it?s landed with a bang. But have they done enough to keep up with the shifting goal posts of the mid-sized sports sedan market? See...
Motornet: Audi And The Power Of Four
EARTH TO PLANET SUBARU -
GTB AND LEGACY WAGON PUT THROUGH THEIR PACES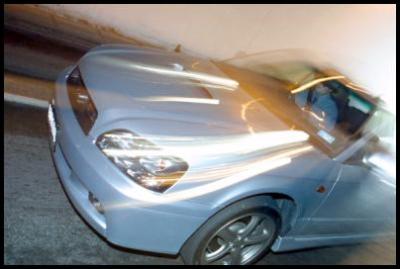 It's almost a case of 'beam me up, Scotty' with the Subaru 'rocket ship' Legacy GTB wagon. Though the standard two-litre Legacy wagon does a good job of keeping your feet on the ground. See...
Earth To Planet Subaru
C5 ? CITROEN TAKES THE PATH LESS TRAVELLED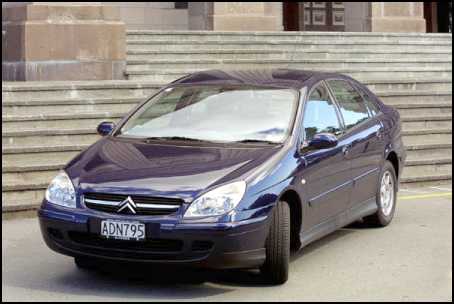 Citroen have always marched to the beat of a different drum when it comes to manufacturing cars, with some notable successes... but have they lost the beat with the new C5? See...
C5 ? Citroen takes the path less travelled?
SAAB'S COUNTRY ESTATE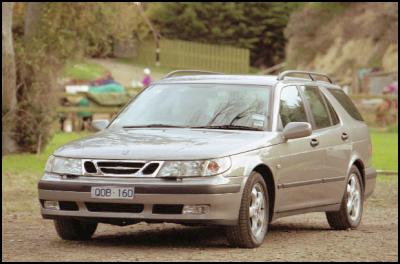 People tend to buy wagons for lifestyle reasons, not because they look better than their sedan cousins... but in the case of the Saab 9-5, many would argue the wagon wins the style war. See...
Saab's Country Estate
*** MOTORING LINKS ***

HOLDEN - http://www.holden.co.nz
HONDA - http://www.honda.co.nz
NISSAN - http://www.nissan.co.nz
TOYOTA - http://www.toyota.co.nz
FORD - http://www.ford.co.nz
BMW - http://www.bmw.co.nz
JAGUAR - http://www.jaguar.co.nz
SUBARU http://www.subaru.co.nz
*** ARCHIVED MOTORNET COLUMNS ***
HONDA ACCORD NEVER MISSES A BEAT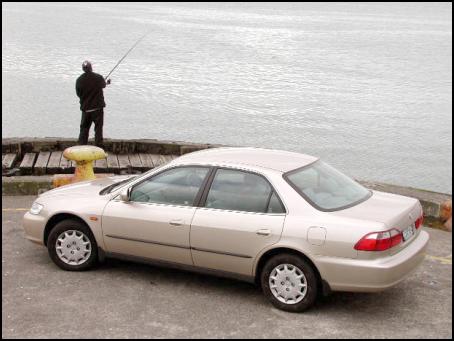 While not exactly the newest kid on the block in the on-going medium sized sedan stakes, Honda's ever green Accord continues to achieve a consistently good report card... See...
Motornet: Honda's A for effort Accord
S IS FOR SPORTY, SINISTER AND... JAG'S NEW S-TYPE V8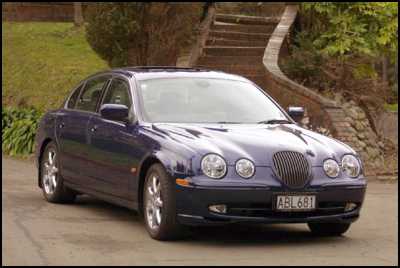 What do you get when you take a standard S-Type Jag, lower the ride, add flash new wheels and hit the delete button on the chrome? One stylish ride, that's what. See?
Motornet: Purr?
PULSE OF THE CITY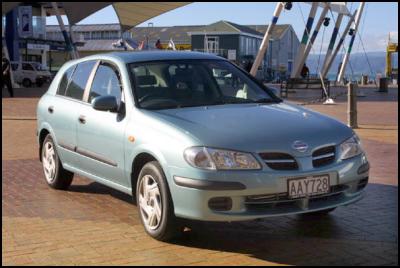 Finally, Nissan have hatched a hatchback to follow in the footsteps of the new Pulsar sedan. Its looks could raise a few eyebrows, but styling aside, it may well set hearts afire... See...
Pulse of the city
HORSES UNDER THE HOOD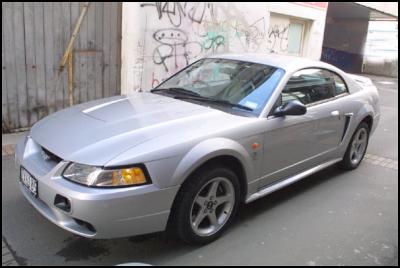 Stonking V8s are not the kind of cars I grew up dreaming about. But you're never too old for new addictions I say.... See? Horses Under The Hood
HOLDEN GIVES IT SOME GAS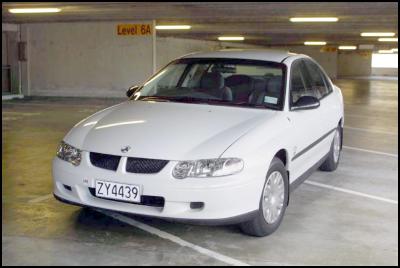 Want to save the planet and money, but not get left behind at the traffic lights? The new Holden Commodore dual -fuel could be the car for you...and if you're wearing the right uniform, you might just catch yourself some crooks. See?
Motornet: Holden Gives It Some Gas
VIVE LA REVOLVOLUTION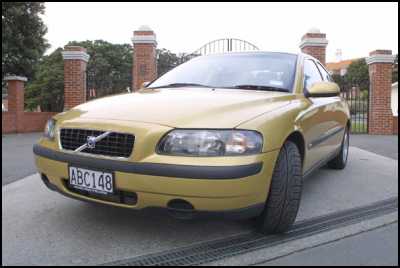 Volvo's revolution continues with the introduction of the sleek and stylish S60 sedan. If this car can't change perceptions of the marque, nothing will. See...
Vive la Revolvolution
ZERO TO LOVE IN 8.9 SECONDS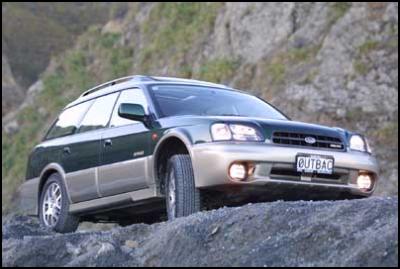 Subaru's new Outback H6 looks little different from the four-cylinder version, but everyone knows that beauty is skin deep. In the case of the H6, it's what lies beneath the bonnet that really counts.... See...
Motornet: Back Roading In Subaru's H6 Outback
SUBURBAN COMMANDO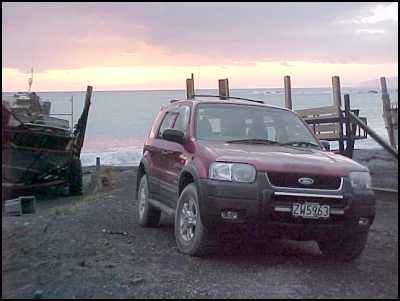 And then we got to Featherston. It was then that I realised I had been duped. I was merely the chauffeur, a simple pawn in a grand scheme of the girls' to visit antique shops and art galleries and odd little emporiums (that really do sell some strange things) - all in the comfort and style of a brand new 4WD. See...
Motornet: Suburban Commando
THE ICING ON CITROEN'S CAKE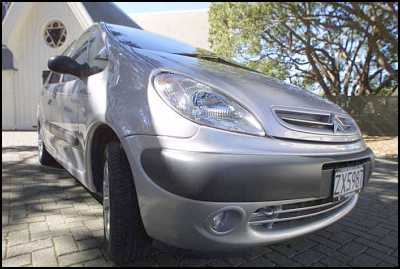 Citroen's new ovoid Picasso raises both eyebrows and interest as an unlikely wedding companion, but proves more than skin deep in the driving department. See...
Motornet: Picasso - The Icing On Citroen's Cake
LPG FALCON, CARDIGAN NOT INCLUDED
For many, the idea of alternative fuel is likely to conjure up images of cardigan wearing Cortina drivers of the early 80s putting along on CNG. But Ford has a new car on the block and it doesn't run on petrol. Can they convince the unconverted? See...
Motornet: Ford's Gas Burner
BOY RACERS MEET SUBARU'S WRX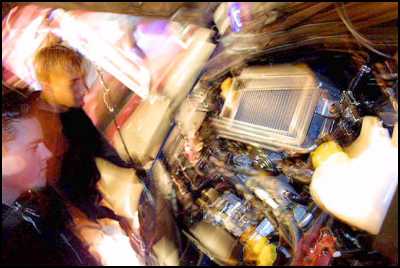 It's been years since Subaru launched the WRX and the latest all-new version has been eagerly anticipated. But all would agree, it is a very different car from its predecessor. The big question is - will the punters buy it? See...
MOTONET: Subaru's WRX Tries On A Suit For Size
COMEBACK CAT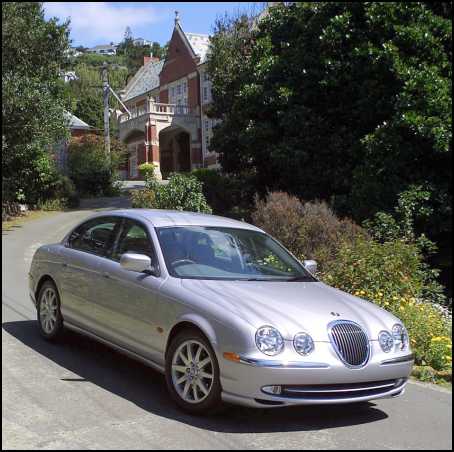 Only a few short years ago, the rarefied Jaguar brand was looking like it might not survive to see the new millennium. Thanks to a much needed cash injection from new owner Ford the day was saved. Luckily, the latest S-Type shows why it was such a good move... See...
MOTORNET: The Comeback Cat
BLACK SMOKE
Diesel tends to conjure up images of black smoke and greasy petrol station pumps, not high performance and a 'clean green image.?But internationally, diesels are being embraced. Perhaps it's time New Zealand took a closer look.... See...
MOTORNET: Diesel revolution
AN ELECTRIFIED DRIVING EXPERIENCE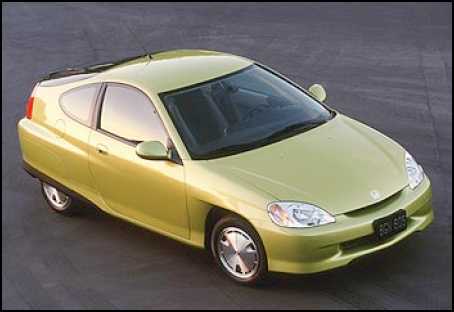 It can be hard to attract attention around Wellington. It would seem that for many capital city dwellers, perfecting the art of cool, collected non-chalance is a must - particularly if you're part of the ever expanding cafe set. See...
MOTORNET: A Tale Of Two Hybrids
VOLVO - OUT OF THE BOX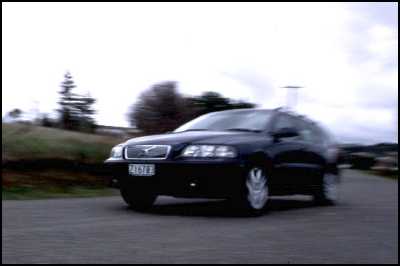 The haunting melody of Albinoni's Adagio builds to a crescendo, each note perfectly reproduced through nine glorious speakers. It fills the cars interior with brilliant sound, the music bold and strong. I can't help but think, as the late afternoon sun reflects brightly on the still waters of lake Taupo, its shores kept company by the many weary travellers roaring ever closer to the day's destination, that Albinoni would have felt at home in this car. His music certainly does. See...
Motornet: Out Of The Box