Seeds Of Distrust - Election 2002 Special Feature
Seeds Of Distrust - Election 2002 Special Feature

See also...
FEATURE: ELECTION 2002
FEATURE: CAMPAIGN 2002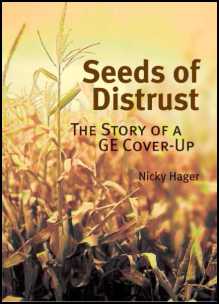 Revelations of The Corn
How The Seeds Were Spun
POSTSCRIPT - JULY 2003:
John Campbell "Partially" In Trouble Over Corngate
- Aspects of complaints about a TV3 3 News Special programme which featured an interview with the Prime Minister concerning the release into New Zealand of corn seed alleged to have been genetically modified, have been upheld by the Broadcasting Standards Authority. See...
Authority Releases Decision On 3 News Special (Includes Decision)
MORE:
- Nicky Hager -
Nicky Hager Responds To BSA Decision
- TV3 -
3 Committed To Bringing Viewers Important Stories
- Labour Party -
President welcomes BSA decision
- ACT -
BSA Threat To Free Speech
GE SCARE: Seed To Be Destroyed
- The Ministry of Agriculture and Forestry (MAF) was notified yesterday (7 August 2002) about the possible risk of GM contamination of maize seed grown and harvested in New Zealand. See...
GM contamination risk investigation
REACTION:
- Greens -
Source seed from GE-Free countries
- Life Sciences -
Conduct Inquiry
- Federated Farmers -
FFNZ Seeking Briefing
- GE Free NZ -
Better biosecurity needed
Part 3 Of Adrian Picot On Why GE Is Bad Science
- This is the final article of three that I felt compelled to write so that the claim that opponents to GE farming were unscientific was adequately refuted. I feel that I have completed this duty. See...
The BAD Science of Genetically Engineering Part 3
ON THE OTHER HAND:
-
Opinion: Why I Grow Genetically Engineered Crops
-
Guest Opinion: I'm A Poor, Poor Farmer
Corn Wars: Scientists' Battle Rages On
- Russell Poulter has answered all of three of my specific questions (generally suggesting that we could get closer to a resolution of Corngate by the release of further documents) with the retort "I am assured by Novartis that no such report exists". See...
Peter Wills Replies To Russell Poulter
EARLIER:
- Poulter -
Dr Russell Poulter - Re: Corn Wars
- Wills -
Industry may be holding proof of contamination
GM Liability Report Returned To Govt Unchanged
- The government will seek further advice on liability issues concerning genetic modification to supplement a report from the Law Commission. See...
Further Work Required On GM Liability Issues
THE REPORT:
-
Law Commission Report On GE Liability Issues
Corn Wars: Dr Poulter Clarifies His Position
- In response to various claims I would like to make clear that I am not a member of any political party or pseudo-political grouping such as Greenpeace. I am not a member of the Life Sciences Network, I did not make any submissions to the Royal Commission. See...
Sweet Corn Did Not Contain GE Material
MORE:
- Fed Farmers -
Don't Let It Cloud Your Judgement
- Scoop Feedback -
Readers On Corngate
Greens Still Cornfused, Have Questions
- Green Party co-leader Jeanette Fitzsimons said today that the Government and officials still need to answer serious questions about the GE corn contamination controversy. See...
'Cornfusion' Grows
Hager's Conclusions, But Not Facts, Disputed
- The information presented in Nicky Hager's Seeds of Distrust is largely factually accurate, Ministry for the Environment Chief Executive Barry Carbon said today. See...
Hager's Facts Fine – Environment Ministry CEO
Seeds Of Distrust: How The Spin Was Spun
- Both of the Green Party leaders had been successfully misled by the misinformation and clearly neither of them had any inkling there was a cover-up. They had been cleverly used as part of the Government's media plan. See...
Seeds Of Distrust - (Extract) Media Manipulation
MORE:
-
Book Tells The Story of GE Contamination Coverup
-
Background Notes On Seeds of Distrust
-
Image: Seeds Of Distrust Book Cover
Seeds Of Distrust - Recovered History
- 19 December 2000 (Wellington): New measures are being developed by the Government to guard against the inadvertent introduction of genetically-modified seed, the Minister for the Environment and Biosecurity, Marian Hobbs, announced today. See…
New Safeguards Against GM Seed Introduction
. See also the Green Party response…
GE Standards For Seed Protects NZ's Market Edge
SEEDS OF DISTRUST REACTION DIGEST:
- Greens -
Industry Too Close To GE Corn Story
- NZ First -
GE Moratorium
- Greenpeace -
ERMA Corners Government
- Bill English -
Open, Thorough Process Promised
- Nick Smith -
Documents Contradict Clark And Hobbs
- Prof. Peter R. Wills -
Contamination Suspicion
- CHP -
Food Quality Should Not Be A State Secret!
- Life Sciences -
What's the next "revelation"?
- Greenpeace -
Smoke And Mirrors Hide GE Corn Truth
- Scientists' Assn. -
Key Scientific Evidence Absent
- United Future -
Greens GE indignation
- Winston Peters -
In Search Of Truth Or Power?
- Jim Anderton -
GE Tactics Based On Untruths
- Libz -
The Marlborough Corn-Field War
- Greenpeace -
Deceit
- Winston Peters -
In Search Of Truth Or Power?
- Jim Anderton -
GE Tactics Based On Untruths
- Cedenco -
Sweet Corn Products Do Not Contain GE
- Heinz Watties -
No Creditable Evidence
- PSRG -
Distressed At Reports Of GE Contaminated Corn
- Marian Hobbs -
Government Upfront On Corn Seed
- Greenpeace -
Lies, Damn Lies
-
Deceit
- ECO -
GE Business Influence on Government Deplored
- Federated Farmers -
Fitzsimons Suffers Memory Loss
- Jeanette Fitzsimons -
Who can you trust?
- Life Sciences -
Facts About Alleged GM Contamination
- Bill English -
Helen Clark Must Front Up
- Libz -
The Marlborough Corn-Field War
- Chris Webster -
Maori Upfront On GM Moratorium
SCOOP COMMENTARY:
More Hard News Is Here!
- I feel that this week's Hard News was a little too emotional. It was written in the hours after I interviewed Dr Poulter, and I was angry about what had happened. I remain convinced by him and his view that there was no reliable evidence of GM seed presence and that the right thing was done. See...
HARD NEWS 13/07/02 - Having Calmed Down
Hard News: Where Are Hager's Experts?
- Poulter isn't the only scientist to back the government view. They all have. On Hager's side, we only have the unnamed "experts" in his book. We don't know who these people are, whether they're qualified or even, really, if they exist. See...
HARD NEWS 12/07/02 - It's Wrong
Keith Rankin: Hager Throws Election Way Off Course
- I find it deeply frustrating that this election campaign is being dominated by the mainstream media relentlessly pushing two non-issues: cover-ups relating to inappropriately autographed artwork and the limited release of genetically modified organisms. See...
Keith Rankin: The Campaign We Didn't Need
Part 2 Of Adrian Picot's Critique Of GE Science
- I received two replies on my first article. Both were aggressive attacks on my ability to research and understand science and served as excellent examples of the first line of attack that defenders of the GE faith utilise – question the scientific credentials of the dissenter. See...
The BAD science of Genetic Engineering Part Two