Gordon Campbell on the PM's Indonesian guest and West Papua
Gordon Campbell on the PM's Indonesian guest, West Papua and Perfume Genius
First published on Werewolf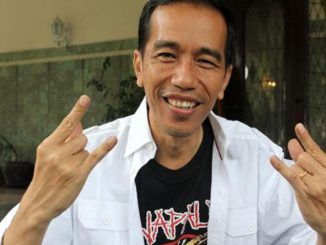 As David Lange once said, it is almost impossible to get New Zealand to think about Indonesia, the huge nation sitting right on our doorstep. The visit to this country early next week by Indonesian president Joko Widodo won't change that situation, even though Widido will be the first major foreign head of state to be hosted by the Ardern government. On the rare occasions we do think about Indonesia it is usually in its role as a neo-colonial oppressor – initially in East Timor, and currently in West Papua – or as a holiday destination, via Bali.
As every media report on the country commonly points out, Indonesia is home to the world's biggest Muslim population. To counter the threat of polarisation posed by Islamic extremism, six religions are officially recognized by the state and Aceh is the only region where full sharia law is practiced. Apparently, the power of the Aceh authorities to cane gays and adulterers amay soon be extended to allow the beheading for those convicted of murder.
Advertisement - scroll to continue reading
Indonesia's struggle to achieve a workable balance between the contradictory forces of secularism, religion and ethnic diversity has been a work in progress ever since independence was won from the colonial powers in 1945. Successive governments have promoted a five point secular state ideology (called pancasila) based on the idea of national unity. However, this emphasis on national unity has also led Jakarta to strongly oppose the legitimate claims to independence of some regions of the country, such as West Papua.
At the same time, political Islam is again on the rise in the country. Reportedly, factional Islamic political parties are being courted by Widodo's likely opponent in next year's presidential election, the former Army general Prabowo Subianto. To that end, Widodo has been plagued with false reports on social media branding him as a communist, and as a former PKI (Communist Party) member. This is a serious accusation in a country that is still living in denial about the wholesale slaughter of communists in the wake of the failed coup in 1965.
The aim of the false news attacks on social media has been to depict Widodo as the tool of godless Western materialism. In that respect, it probably didn't help that last month, the Dutch government chose to present Widodo (a known metalhead) with a special box set of Metallica albums as an official gift.
In the photo above, he's wearing a Napalm Death T-shirt.
This week then, Widodo has been at pains to re-affirm his own (and his country's) Muslim credentials by brokering a peace conference on Afghanistan, despite calls by the Taliban to boycott the event.
For its part, the Jakarta Post has editorialized against Widodo's efforts on Afghanistan, and cast them in a domestic political light.
Jokowi's motives for advancing his credentials as a Muslim world leader from the peace-making effort is understandable because his political detractors brand him as anti-Islam, despite his efforts to help the Palestinians and Rohingya.
Like Modi in India, Macron in France and Trump in the US, Widodo came to power on a populist outsider and modernizing agent. (He had been a former popular mayor of Jakarta and had no significant party apparatus behind him.) There were (probably unrealistic) expectations that he would clean out corruption and – perhaps – be more tolerant of West Papua's claims to independence. Those hopes have gone unfulfilled, at least in the eyes of the public. In Transparency International's 2017 Corruption Perception Index, Indonesia still ranks a lowly 96th out of 180 countries.
West Papua
According to the MFAT website:
[New Zealand] works with the Indonesian defence force through activities such as joint officer training, non-combat training, humanitarian operations and at regional forums such as APEC. New Zealand has a formal agreement with Indonesian police that allows better cooperation between our police forces in combating transnational crime. New Zealand also helps with training community police through the New Zealand Aid Programme.
All these links will be contentious during Widodo's visit, if only because of the ongoing role of the Indonesian military and police (that we help to train) in the violent suppression of West Papuan independence. A few days ago, the Asia Times updated the political manoeuvring on West Papua.
Indonesia's Papuan provinces were incorporated into the country in 1969, when Indonesian authorities held a widely disputed referendum that ended seven years of UN administration following the departure of the Dutch colonial regime. An on-and-off conflict with local separatists of various stripes has endured since then, with the Indonesian military accused of atrocities amounting to genocide against the Papuan population.
Regardless in September 2017, the UN De-colonisation Committee rejected a petition signed by 1.8 million West Papuans, who were calling for a new referendum vote to replace the shonky one conducted by Indonesia 49 years ago. The UN explanation was something of a Catch 22 : reportedly, the committee couldn't accept a petition for consideration for West Papua's claims to be on its de-colonisation territory list, because West Papua wasn't on its list.
The UN decolonisation committee says the West Papua cause is outside its mandate, which extends only to the 17 states identified by the UN as "non-self governing territories." The committee's chair and Venezuela's representative to the UN, Rafael Ramírez, says he had received no formal petition document, and his office had been "manipulated" for political purposes. Mr Ramírez also says the committee accepts Indonesia's sovereignty over West Papua, which took control of the western half of New Guinea in 1969.
Next week, Jacinda Ardern may wish to talk about trade, tourism and export education opportunities with Widodo – but the issue of West Papuan independence and New Zealand's (lack of) support for it will dominate the public coverage of the visit.
Perfume Genius (Genius!)
As last night's Arts Festival gig by Perfume Genius showed in spades, there are at least 50 ways to sashay, and Mike Hadreas filled them all with joy, power and poignancy. As he promised at the start of proceedings, there would be upbeat and downbeat elements to the set…but as it unfolded, even the most anguished of his ballads felt buoyant, and offered comfort zone that included us all.
As others have pointed out, the No Shape album last year expanded Hadreas' role as a gay artist who initially offered a voice of defiance (and place of refuge) for his community. That activism remains, but its now entirely inclusive as well. Watching him last night in a cabaret showcase of his full range as a songwriter, singer and dancer, the comparison that came to mind was James Brown. We've got so used to the idea of the role of the black church in the evolution of soul music and modern r & b that we've forgotten the thrill of recognition and delight that black audiences felt when Brown first brought his music to the secular stage. Soul was music that had its origins in a common gospel of consolation developed by a persecuted and oppressed minority – but it finally conquered the straight white majority who were at the heart of the problem. Last night felt much the same. On stage, Hadreas was like the gay equivalent of Live At the Apollo.
Lets hope he's on the same path to world domination. A few years ago, a friend of mine wrote on her Facebook page about how come this guy is not a household name ? His set drew mainly from the last two albums, including a beautifully stripped down, propulsive version of his anthem "Slip Away" …"Don't hold back, I want to break free, God is singing through your body, and I'm carried by the sound." Exactly. In the (mainly solo) encores though, he also went right back to his breakthrough 2010 track "Mr Peterson."
The cover versions he chose were astounding. Hadreas slowed down Mary Margaret O'Hara's "Body's in Trouble" but in an arrangement that only enhanced the screwed, seasick surge of the original. Solo at the keyboard, he brought his angel voice ( think Anohni) to a cover of Alex Chilton's greatest song " Kangaroo." If you live in Auckland, you should try to get to his gig tonight with Aldous Harding at the Festival Playground in Silo Park. It won't be as intense as the more intimate cabaret gigs he did in Wellington – but it could still change your life.
On the Song Exploder site, you can hear Hadreas talking cogently about how 'Slip Away' came about.
And here's a video of Hadreas performing a live version of 'Slip Away'….
And this fuller KEXP Seattle clip includes at the very end, his interpretation of Chilton's "Kangaroo."
Advertisement - scroll to continue reading