Gordon Campbell on the extradition of Julian Assange
First published on Werewolf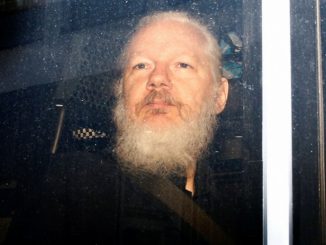 It isn't necessary to like Julian Assange to think that his extradition to the US (on the charge of aiding and abetting Chelsea Manning) would be a major injustice. And lest that be construed as a claim that the right to justice of his Swedish accusers is of no account, it isn't. At this point though, the Swedish case not still be relevant. Given that the two Swedish charges lapsed in one instance or were dropped in another, they would need to be re-instated in order to compete with the US extradition proceedings underway in Britain.
Besides Assange's contribution, the plight of the Swedish accusers has also been a by-product of the refusal by Britain or Sweden (since 2010!) to pledge not to extradite Assange onwards, to the US. For the record, it would have been an entirely valid reading of the UN Refugee Convention for either Britain or Sweden to have given such an assurance, under the principle of non-refoulement.
Moreover, as Assange's lawyer Jennifer Robinson told me in 2013, Sweden has gone 0ut of its way to deny Assange the normally available protections of the Refugee Convention, by carefully preventing him from being able to claim political asylum in Sweden. As Robinson said in that Werewolf interview:
Advertisement - scroll to continue reading
The Swedish prosecutor had put out a press release saying that she would put him in custody and that he would be held in custody pending charge and trial. Which meant that physically, he wouldn't have the opportunity to seek asylum with respect to what might happen in the United States.
Significantly, the US extradition charge has been carefully formulated as a computer-related crime. If Sweden ever is directly relevant again to the extradition proceedings, the US will have needed to get around Sweden's ban on extraditing people to face politically inspired charges. Therefore, Assange is being accused at this point by the US authorities only of "conspiracy to commit computer intrusion" by assisting Manning to crack a Pentagon password. Allegedly, Assange has committed a data privacy crime, and is therefore not facing a politically inspired charge. (Yeah right.) Once his feet touch American soil, it would be a safe bet to assume those charges would be very likely to be significantly upgraded.
The US extradition document is dated March 2018. If re-instated, the Swedish extradition request might – or might not – take precedence over it. On the weekend, Jennifer Robinson said that if faced with extradition to Sweden, Assange would (once again) seek assurances from Sweden that he would not be sent on to America, and added:
"He's not above the law. Julian has never been concerned about facing British justice or indeed Swedish justice. This case is and has always been about his concern about being sent to face American injustice."
Britain's role
All along, Britain has been just as willing as Sweden to expose Assange to the risk and likelihood of onward extradition to the US. As things currently stand, the two Swedish charges by two different women of (a) rape and (b) sexual molestation were dropped by the Swedish authorities in 2015 and 2017 respectively, though one of the women has recently asked the Swedish prosecutor to re-open the case.
As Jemima Khan stated in a New Statesman article in 2013: "The women in question have human rights, too, and need resolution. Assange's noble cause and his wish to avoid a US court does not trump their right to be heard in a Swedish court." Khan was right about that, but only half right. One could just as easily invert her argument by saying that the women's right to be heard does not require Assange to subsequently undergo decades in a US Supermax prison, regardless of whether he was found innocent or guilty of the charges in Sweden.
To put it mildly, Assange's personal behaviour has not been blameless. His decision to subordinate his accusers right to be heard in court to his desire to avoid a far longer term of unjust imprisonment in the US is open to challenge. Some of his accusers regard his actions in Sweden as justifying whatever may happen to him subsequently in the US.
Yet even if Assange has been at serious fault in Sweden surely the right outcome would be that he gets tried and (if guilty) punished in that country – rather than offloaded to the United States for a long stretch of unjust imprisonment. IMO, even dickheads don't deserve decades in a US prison for helping to expose US war crimes. In passing, the celebrity worship that first conferred sainthood on Assange and has denigrated him since has been exposed to be a very dodgy business. Khan said this about Alex Gibney's Wikileaks film: "In many ways, the film's narrative arc mirrors my own journey with Assange, from admiration to demoralisation." To which one can only retort: was Assange's celebrity ever about anything other than the personal 'journey' of his admirers, and his accusers?
Only, it seems, if Assange went to Sweden, got acquitted but then martyred himself in a US prison for a decade or more, would admiration be restored and a "Free Julian Assange" lobby group formed. Small consolation in the circumstances. For nearly ten years, Assange saw his fears of extradition being treated as an excuse to avoid being confronted by his Swedish accusers. Well, now we know those fears were genuine all along, To many people, Assange has become the poster child for how expendable women's rights tend to be in the greater scheme of left wing political causes.
Yet if that situation worried the governments of Sweden or Britain in the slightest, they could have provided the assurance – back in 2010 – that no onward extradition would take place. And if they had done so… Assange, his Swedish accusers and the rest of us would not be where we all are today.
Footnote One: As Jennifer Robinson also pointed out, journalists and publishers everywhere should be alarmed at how the US government has defined Assange's collaboration with Chelsea Manning as entailing criminal liability. That's a major, major leap for what happens to those who provide a platform for leaked material. By that logic of liability, any journalist who publishes leaks provided to them by a whistle blower could face similar criminal charges of "colluding" with their informants in gaining unauthorised access to damning material that is the public interest.
That's not how things have been done in the past. As we've all discovered to the contrary in the wake of the mosque attacks in Christchurch, tech companies like Facebook, Google, Twitter etc have long enjoyed a claim to virtual immunity for what gets published on their platforms. That's because (primarily) they function only as bulletin boards for material that they do not generate. That's why Section 230 0f the Communications Decency Act says that tech companies are not responsible for what gets published on their platforms.
Why not? Because, as with allegations of copyright infringement, it is practically impossible to hold digital platforms to the same liability standards as traditional media, given the daily volumes of material that are being uploaded. (That's why section 230 was created, as a safe harbour.) A requirement for pre-screening and for strict moderation/government regulation (rather than the current complaint and takedown process) would destroy the Internet as we know it. That's why the changes required (to the 'recommend" algorithms, and to the red-lighting of neo-Nazi content) need to be targeted.
So while a Republican President and Republican- controlled Senate would love to hold Assange to be equally liable as Chelsea Manning, doing so would signal a drastic re-interpretation of the rules that currently govern the Internet. To repeat: Wikileaks publishes content that is virtually unedited; it is not an originator of content in the way that a newspaper or magazine is. To hold it equally liable with those who supplied its content seems perverse. Unfortunately, Democratic house majority leader Nancy Pelosi seems just as gung ho as any far-right Republican about the need for drastic action on Section 230:
Pelosi said Silicon Valley is abusing the privilege of section 230 of the Communications Decency Act, which says that internet companies are not responsible for what is posted on their platforms.
"230 is a gift to them, and I don't think they are treating it with the respect that they should," she said. "And so I think that that could be a question mark and in jeopardy.... For the privilege of 230, there has to be a bigger sense of responsibility on it, and it is not out of the question that that could be removed."
Pelosi's attitude, as the Techdirt site has pointed out, is dead wrong in many, many respects:
Section 230 is not a "gift" to the tech companies. It's a gift to the public and their ability to speak freely on the internet. And [for Pelosi] to argue that companies don't "respect" Section 230 is weird, given that internet companies have spent basically the past 20 years fighting for Section 230 and explaining why it was so important, while almost everyone else downplayed it, didn't care about it, or didn't understand it… Attacking it in this way will literally do the opposite of what Pelosi seems to think it will. Removing Section 230 won't help bring about more competition. It won't help make the companies "act better." Rather, stripping 230 protections means that you won't get smaller companies building competing services to Facebook and Google, because it will be way too risky on the liability side.
Ultimately… in both the case of Julian Assange, and in the wake of the downstream social media regulation now likely in the wake of the mosque attacks, we need to be able to function in something other than a black and white moral universe. Reality can require us to hold more than one truth (and some contradictory ones) at the same time. That can be uncomfortable, and it certainly feels somewhat less than righteous. Yet some freedoms of expression that we value, and some of the instruments that help us to hold state power to account, happen to be owned and operated by deeply flawed people. That, unfortunately, is the world we live in.
Footnote Two. IMO, the profile of Julian Assange that has best succeeded in capturing him in in all his multiple dimensions (including his lies, callous manipulations and the mutual self interest in his dealings with Russia) is still this 2017 article by Raffi Khatchadourian in the New Yorker.
Weyes Blood, New Album
Weyes Blood sounds like a name conjured up from the writings of Flannery O'Connor, yet Natalie Mering is more adept at conjuring up swooningly fey moods than O'Connor's hard-bitten Southern Gothic ones. On her new album Titanic Rising. IMO, this track "Movies" is where Mering comes closest to pulling off her highly ambitious best intentions.
Love… we all learned it (and lost it) at the movies. Or as she puts it at one point in this song: "The meaning of life doesn't shine like that screen…" So we'd better treasure the times when the two seem to be in sync.
Advertisement - scroll to continue reading