Scoop's Budget 2002 Coverage
Budget 2002 - Full Coverage
For the latest headlines and reaction see..
PARLIAMENT WIRE...
and
POLITICS WIRE...
For the full text of the budget see...
TREASURY BUDGET 2002 WEBSITE
For the 2000 and 2001 year budget coverage see...
BUDGET 2001 - FULL COVERAGE
BUDGET 2000 - FULL COVERAGE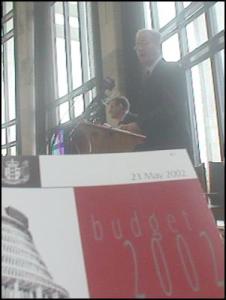 Budget 2002
BUDGET 2002 – SCOOP COMMENTARY
BUDGET 2002: Paulo Politico - Go Michael, Go Michael
- Dr Michael Cullen's third budget, delivered last Thursday afternoon, represents a triumph for the government. After three years in office, the Labour Minister of Finance was able to report to the House that the operating surplus for the 2001/02 financial year is projected to be around $2.3 billion. See...
$2,300,000,000: Dr Cullen's finest hour
BUDGET 2002: Hard News Is Here!
- GOOD DAY MEDIAPHILES ... There was never going to be a whole lot in this Budget. The economy is flush, but Michael Cullen set himself a cap of $6.125 billion dollars in new spending for his first three years - and spent most of it in his first year. See...
HARD NEWS 24/05/02 - Dear Prudence
BUDGET 2000: Howard's End – Global Economy Peachy, Pull The Other One
- The Budget is forecasting growth at 3.1 per cent in each of the next two years but slowly falling after that, while the Government surplus is picked to reach $2.6 billion this year, $2.6 billion next year and $3 billion into the future. Oh really! Maree Howard Writes. See...
Howard's End: No Substitute For Honest Numbers
BUDGET 2002: Keith Rankin: Budgets Ain't What They Used To Be
- Budgets are not what they used to be. The monetary policy statements the week before are marginally more interesting. They have taken over what budgets and mini-budgets used to do, the fine-tuning of the macroeconomy. See...
Keith Rankin: Macroeconomic Policy
BUDGET 2002: Sludge - Dr Cullen's Amazing Shrinking Budgets
- New Zealand is like a household in which the children are starving and the cupboards are bare, but dad is delighted because he has a nice big deposit in his savings account, which he intends to keep there till the kids are grown up and he has retired. See...
Sludge Report #137 – Where's The Dosh?
BUDGET 2002: Irony Spotted In Science Budget
"There is huge irony in the fact that horticultural research has seriously lost out in funding and may have to lose up to 30 scientists, including the Prime Minister's electorate treasurer," says Dr Paul Hutchison, National's Crown Research Institute spokesperson. See...
PM's Electorate Treasurer Could Lose Science Job
MORE BUDGET 2002 RELEASES:
- Maurice Williamson -
Only 1.3% More To Universities
- Steve Maharey -
Read Budget properly Maurice
- Maharoa Okeroa -
Budget 2002 speech to the House
- Roger Sowry -
More Health Boards Look At Cuts
- Georgina te Heu Heu -
Big yawn for Maori
-
Budget ensures Treaty Settlements take forever
- MAF -
New funding will enhance capabilities of MAF
-
Commitment to lessening the impact of varroa
- PSA -
Good News Not Full Story
- Anti-DPB Activists -
Spend-Up On Beneficiaries
- Medical Specialists -
Dr Cullen Naive
BUDGET 2002 – POST BUDGET GOVT RELEASES
Michael Cullen Defends His Budget
- Finance Minister Michael Cullen today rubbished Opposition claims that the budget was stingy and that a National government would have been more generous, saying the facts told a different story entirely. See...
National unplugged
MORE POST BUDGET GOVT. RELEASES:
- PM -
PM Post Budget Address To Auckland Chamber
,
$2 million for new export initiative
- PM -
Growth and Innovation Advisory Board members
- Jim Sutton -
Rural People Benefit From Government Budget
BUDGET 2002 – THE REACTION - FULL COVERAGE
Parliamentary Reaction:
ACT New Zealand:
- Richard Prebble -
We Could Cut Taxes Now
,
Budget Surplus Shows We Are Over-Taxed
,
Zero Funds for Security
- Rodney Hide -
The Fudge It Budget
- ACT Spokespeople -
Budget 2002: Comments
Alliance:
- Laila Harre -
Highlights for women
-
Comments
- Willie Jackson -
Comments on Budget 2002
National:
- David Carter -
Cullen's comments cause dollar to drop
- Roger Sowry -
Health boards have to make $120m cuts
- Bill English -
Budget fails to deliver
- David Carter -
Budget a squandered opportunity
- Nick Smith -
Real school budgets go backwards
- Tony Ryall -
Cops $20 Million Shortchanged
- Max Bradford -
Budget Starves Defence
- Belinda Vernon -
Labour Can't Buy Authors Off
New Zealand First:
- Winston Peters -
Middle Earth Sleep Walking To The Third World
- Brian Donnelly -
Maori Sign Language
-
Tertiary Funding
- Doug Woolerton -
What About The Farmers?
Greens:
- Keith Locke -
Keith Locke's Budget Speech
- Jeanette Fitzsimons -
Green initiatives
- Sue Bradford -
Authors, Literature Benefit
United Future New Zealand:
- Peter Dunne -
Bland, Boring Budget Ducks The Real Issues
Non Parliamentary Political Reaction:
- Greenpeace -
Toxic Waste Budget Initiative Welcome First Step
- Christian Heritage -
The Road To 'Welfare Serfdom'
Health Sector Reaction:
- NZNO -
Budget A Mixed Bag For Nurses
Business Sector Reaction:
- EMA -
Big Surplus Conceals Huge Spending Budget
- ACRI -
Response To Budget 2002
- ITANZ -
Regional Opportunities For NZ Companies
- IPENZ -
Engineers Cautiously Welcomes Budget
- Business NZ -
Budget Statement 2002
- Fed Farm -
No reason to Celebrate Budget
- Knowledge Wave -
Lacks Boldness On Growth
- AK Chamber -
And Now For The Hard Part - Delivery
-
SME-Led Growth Long Overdue
-
Good-Bye To "Quick-Fix" Growth
- Wgtn Chamber -
Long-Term Answers Required
- Business Roundtable -
Need For Growth Policies
- CTU -
Clear choice for workers
- MORST -
Research and innovation
Education Sector Reaction:
- AUS -
Tertiary Update Special Budget edition
- NZSTA -
Right wave length for rural schools
- PEP -
Response to Tertiary Education for PTEs
- OUSA -
A semi-good idea
-
More Hype Than Help
- OPSA -
Thanks, But No Thanks
- Business NZ -
Statement re Education
- AUSA -
Budget Falls Short on Student Support
- AK Uni -
Tertiary Funding Welcomed
- UCSA -
Fees Freeze, So Do Allowances
- Teachers Council -
Establishment Funding
- ATSA -
Budget Offers Little Relief For Students
- AUS -
Positive developments from the Budget
- VUWSA -
Glaring omission from budget
- NZUSA -
Framework Must Bring Fees Down
and
Student Funding Still Lower than Decade Ago
BUDGET 2002: Dr Cullen's Speech
- "Mr Speaker, I move that the Appropriations (2002/2003 Estimates) Bill be now read a second time." See...
Budget 2002 Speech - Michael Cullen
BUDGET 2002: Images
- Images of Budget 2002 at Parliament today. See...
Scoop Images: Budget 2002 - Show Us The Surplus!
BUDGET 2002 IN BRIEF – SUMMARY SHEETS:
-
Budget 2002: Highlights and key points
-
Welfare, Super, Health, Sport, Housing, Youth, Disabilities
-
Police, Immigration, Corrections, Attorney-General
-
RST, IRD, Regulatory Environment, Broadband Internet
-
Conservation, Environment, Fisheries, Arts & Culture, Forestry, Broadcasting
-
Education
BUDGET 2002 – THE FULL PRESS KIT
FINANCE & ECONOMY:
-
Commitment To Security In Retirement
-
Highest standards of financial management
-
Strong economic and fiscal stewardship
EDUCATION:
-
Backing teachers of science, maths and technology
-
School funding increases
-
Investing in quality
-
Early childhood education critical to success
-
$400 million investment in tertiary education
-
Investing in knowledge and skills for New Zealand
WELFARE:
-
Building stronger families
-
Making work pay
-
$15m package for community organisations
HEALTH:
-
Increase in GMS subsidy for under-sixes
-
Sanitary works subsidy scheme approved
-
New health research partnership for Pacific people
-
$200 million group B meningococcal campaign
-
Health gets three-year funding path
-
Health facilities getting $2.04 billion capital
POLICE & SECURITY:
-
Police funding up $34m a year
-
Investigating and prosecuting serious crime
-
Breaking the cycle of offending
-
Prison security and maintenance improved
-
Police vote up $34 million a year
-
Enhanced Security Checks In And Outside NZ
OTHER:
-
Budget boost for sport
-
Support for refugee resettlement
-
Funding doubled for outdoor recreation facilities
INNOVATION AND GROWTH:
-
Technology for business growth
-
Budget initiatives for business
-
Supporting research partnerships
-
Small business will benefit from IRD budget boost
-
Strengthening basic science
-
Economic innovation package – outline and costs
-
Economic innovation package
-
Economic innovation boosted by business clusters
-
Private-Public Partnerships Vital
-
Big Internet Boost For Regional Communities
-
Major Investment To Boost Economic Innovation