Scoop's Budget 2006 Coverage
CLICK TO JUMP TO SCOOP BUDGET COMMENTARY AND REPORTS
CLICK TO JUMP TO THE BUDGET PRESS RELEASES
CLICK TO JUMP TO BUDGET REACTION
CLICK TO JUMP TO BUDGET PREVIEWS
CLICK TO JUMP TO PRE-BUDGET ANNOUNCEMENTS AND REACTION
For the latest headlines and reaction see..
PARLIAMENT WIRE..., POLITICS WIRE..., BUSINESS WIRE..., EDUCATION WIRE..., HEALTH WIRE...
BUDGET 2006: HEADLINES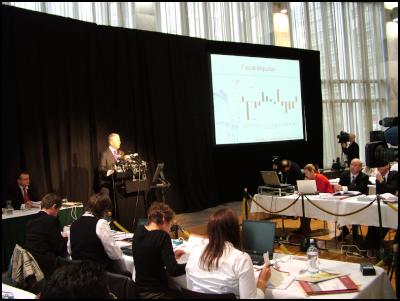 Michael Cullen's 7th Budget Speech
- Finance Minister, Michael Cullen: "I move, that the Appropriation (2006/07 Estimates) Bill be now read a second time. Budget 2006 demonstrates the importance to the Government and the people of New Zealand of the commonsense, consistent, long term view that has been taken over the previous six Budgets. Over the period from 2000 to 2005 New Zealand experienced very strong economic growth, averaging nearly four per cent over the last five years. This has led to strong household income growth, rising real incomes, and very low levels of unemployment. Since December 1999 an additional 313,000 jobs have been created in the New Zealand economy." See...
Budget Speech 2006
ALSO:

Parliament Audio: Michael Cullen's Budget 2006 speech.
RELATED LINKS:
For the full text (when released) of the budget see...
TREASURY BUDGET 2006 WEBSITE
See also the
BEEHIVE BUDGET PAGE
For previous budgets see...
BUDGET 2005
-
BUDGET 2004
-
BUDGET 2003
-
BUDGET 2002
-
BUDGET 2001
&
BUDGET 2000
BUDGET 2006 – SCOOP COMMENTARY
Sludge Report #171 - Budget 2006 - A Budget For Auckland (And Internet Users)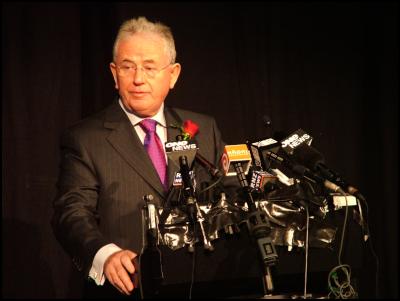 Scoop Sludge Report: NZ Finance Minister Dr Michael Cullen presents Budget 2006 to the media lock-up
- With his lead budget headline stolen by a DPMC messenger – local loop unbundling, Finance Minister Michael Cullen faced only minimal questioning in the budget lock-up this afternoon as he delivered his 7th budget media lock-up presentation in the Beehive banquet hall. Mind you having delivered a very long explanation in his presentation, there was arguably not a great deal left to find out. In fact as you look closely a fairly large chunk of the announced new spending in Budget 2006 is in fact related to initiatives the government campaigned on which have already been actioned.
SEE…
C.D. Sludge's Budget 2006 Report
&
Budget 2006 Images And Audio
ALSO:

Scoop Audio: Selwyn Manning and Simon Pound discuss the 2006 Budget,
how targeted funding often offers indication of where the Government intends to take the country – watch out for the detail. Also discussed is how David Cunliffe is the man of the week.
The Letter
- The Haps; The key statistics; What is not in the budget; Inflationary; Fueling inflation; Predictions always wrong; Spin not substance; Huge risk; Paying for mis investment; Charles Chauvel; Caucus Unsettled; Pinch National policy?; Survived another week; ... See...
The Letter – Monday, 22 May 2006
Molesworth and Featherston
- The economic idea behind Michael Cullen's seventh budget is that the downturn we're in is a temporary and inevitable part of an economic cycle; and that the best response is to keep a steady hand. See...
Molesworth & Featherston (Budget) – May 19th 2006
Trans Tasman
- Budget Time again for Michael Cullen, and speculation to the contrary, it's unlikely to be his last ... Red faces all round when the budget leaker, a Beehive messenger, is uncovered ... "Gross and disgraceful dishonesty" the PM says ... But Michael Ryan ... See...
Transtasman Political Letter – 18 May Digest
Marc Alexander
- Isn't the point of a budget to live within your means and not everybody else's? Nothing makes a budget look sicker than high living and that's exactly what Cullen and the Labour socialists delivered yesterday. After filching a record $8.48 billion surplus ...
Marc My Words: An obscene and obese Budget
Beehive Bulletin
- Finance Minister Michael Cullen described his seventh Budget as one that delivered on Labour's election promises and guarantees solutions to key regional transport issues. The budget allocates new operating spending of $9.6 billion and capital of ...
Beehive Bulletin - Budget 2006 Special
BUDGET 2006 – POST BUDGET DAY DEVELOPMENTS
Budget 2006: Peter Harris And Pals Discuss Budget's Social Impact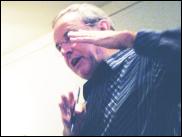 While many in the media were obsessed with haranguing Dr Cullen for tax cuts – presumably to enable them to take that extra overseas holiday– Scoop rose before any self respecting crow the day after Budget 2006 and attended Public Health Association's annual post Budget brekky to see if there were other stories around. Dissecting the Budget from a social perspective at the PHA's post budget breakfast were four high profile speakers: Rod Oram, Peter Harris, Cindy Kiro and Debbie Te Whaiti. See...
Budget 2006 - A Social Perspective
ALSO:
BUDGET DEBATE SPEECHES - AUDIO AS DELIVERED

Michael Cullen's Budget 2006 speech.

Prime Minister, Helen Clark's speech.

National Leader, Don Brash's speech.

NZ First Leader, Winston Peters's speech.

Budget: Spy Budget Doubles Aid Stays The Same - Locke Sees Red
- "Our spies got $23.28 million to do their job last time around. But in the year 2006/07, this will rocket up to $43.49 million - without any explanation in the Budget about what this money is for."This increase comes at the same time that our aid vote - which could actually help to reduce income disparity and instability in our region, if properly funded - is being held to its current paltry ratio. See...
Budget bonanza for spies
ALSO:
BUDGET 2006 – THE REACTION - FULL COVERAGE
BUDGET DEBATE SPEECHES - AS PREPARED
SELECTED BUDGET DEBATE SPEECHES- AUDIO AS DELIVERED

Parliament Audio: Michael Cullen's Budget 2006 speech.

Parliamentary Audio: Prime Minister, Helen Clark's speech.

Parliamentary Audio: National Leader, Don Brash's speech.

Parliamentary Audio: NZ First Leader, Winston Peters's speech.
Parliamentary Reaction:
Labour
National
Progressive Party
Greens
The Maori Party
NZ First
ACT
United Future
NZ Government (Reaction To Reaction)
Non Parliamentary Political Reaction:
Health Sector Reaction:
Education Sector Reaction:
Union Reaction:
Business Sector Reaction:
Other Reaction
BUDGET 2006 – THE PRESS KIT
(Note see also pre-budget announcements below)
The Budget Speech
Coalition Leaders' Statements
SUMMARY SHEETS
Economy
Education
Welfare
Health
Housing
Law, Order & Security
Research, Growth And Innovation Framework
Art, Culture And Sport
Trade and Foreign Affairs
Other Stuff - Maori, State Sector, Local Govt
BUDGET 2006 PREVIEWS
PRE BUDGET 2006 GOVT. ANNOUNCEMENTS
PRE BUDGET GOVERNMENT RELEASES:

Taxation: Dunne Turns Down Heat on Overseas Capital Gains
- The Minister of Revenue, Peter Dunne, announced today, that after listening carefully to public submissions, the Government will bring in an amendment to the Tax Bill introduced into Parliament today, with the intention of calming ill-founded fears among New Zealanders with overseas investments in companies such as the Guinness Peat Group. See...
Amendment to 2006 Tax Bill

Police: Government Moves To Thicken The 'Thin Blue Line'
- The Government has committed a total of $164.3 million in operating costs and $52.3 million in capital costs over the next four years for the first tranche of the 1000 frontline sworn police and 250 non-sworn police promised under its confidence and supply agreement with New Zealand First. See...
1250 new police will reach $500 million
ALSO:

Budget: Money for Buy Kiwi Made Campaign
- Funding of $11.5 million will be made available over the next three years to fund a Buy Kiwi-Made programme, Economic Development Minister Trevor Mallard and Government Spokesperson for Buy Kiwi-Made Sue Bradford announced today. The Buy Kiwi-Made programme was part of the post election cooperation agreement between the Government and the Green Party. See...
http://www.scoop.co.nz/stories/PA0605/S00319.htm
ALSO:OTHER BUDGET NEWS:

Internet: Budget Surprise Comes Early – Local Loop To Be Unbundled
- New Zealanders can look forward to faster, better broadband Internet services thanks to the comprehensive telecommunications package announced today. Today's package includes: •
Requiring the unbundling of the local loop
and sub-loop copper-wire lines between telephone exchanges and homes and businesses, allowing other Internet Service Providers to compete fully with Telecom to provide faster, cheaper broadband. See...
NZ'ers can look forward to faster broadband
REACTION:

Budget: The Predictions
- For many, Budget time means just another list of new services and funding from Finance Minister Dr Michael Cullen, announcements which mean nothing to ordinary people. However, the Government is committed to creating and supporting a better future for all New Zealanders. David Coates, Rakaia's Labour spokesman and resident of Darfield, says, "Budget 2006 will affect the citizens of the Selwyn and Ashburton Districts in many positive ways."
See…
What's in Budget 2006 for you?
ALSO:

Parliament Audio: You can click here to listen to Live Audio from Parliament.

Scoop Audio: Selwyn Manning and Simon Pound discuss the 2006 Budget