Gordon Campbell on the fear of change
Gordon Campbell on the fear of change
First published on Werewolf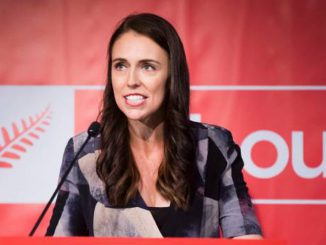 Change isn't the same old menu, with merely a better range of desserts. As New Zealand has woken from its nine-year slumber to confront National's dire legacy of social and economic neglect, the changes involved are going to be extensive. Everything from the minimum wage rate – due to reach $20 an hour by 2020 – the Gold Card and the Reserve Bank Act are up for super-charged makeovers. The currency will be managed more energetically. Regions will be developed. Infrastructure will be built, power pricing will be reviewed. Over 70 policy commitments are contained in the coalition agreements that Labour has struck with the Greens and New Zealand First, let alone Labour's own initiatives. These changes won't be risk free or painless for everyone; but turning a blind eye to the country's social deficits is no longer an option.
What's fascinating about Ardern is that she seems willing to go on the front foot and take the country with her, as she tackles the basic policy settings. Helen Clark, for all her political skills, was a cautious leader who rarely used the PM's rostrum as a bully pulpit. Clark was more inclined to foresee risk, and she put a lot of time and energy into pre-empting the lines of attack from the media and her parliamentary opponents. By and large though, Clark conserved power; Ardern appears more inclined to use it, and she'll be picked to pieces if she doesn't. Basically, the new government can't afford to become gun-shy of the media. Timidity (and making decisions via focus groups) just isn't a viable option.
Understandably, the centre right is taking quite a while to adjust to this new reality. (Shares in Mike Hosking plummeted over the weekend after the formation of the Labour-led coalition, as Hosking's Ponzi scheme of right wing platitudes collapsed overnight.) There has been a lot of aggrieved talk about the new government being a coalition of losers, from people still living in the 20th century. For the record: Labour, the Greens and New Zealand First won 50.4 % of the vote, while the centre-right forces of National/Act could muster only 44.9% between them. Even Bill English has conceded that the new government is legitimate, and if Lyin' Bill says Ardern has a valid mandate, that should be enough for his supporters.
Later today, we'll be able to match up the new Ministers with their portfolios. Clearly, the Greens have retained their policy interest in issues beyond the environment, with social justice advocate Jan Logie being among the ministerial/undersecretary roles outside Parliament, and (presumably) Julie Anne Genter filling the associate ministerial post that the Greens have won in Health. That should stiffen the spine of Health Minister David Clark. Supposedly, the Greens' confidence and supply deal will enable the party to criticise the government on those issues outside their ministerial areas of responsibility – but inevitably, the media are likely to treat any criticism as being evidence of disharmony in the coalition ranks.
For that reason, the Greens will need to manage this risk– now and after James Shaw's role is augmented by a new woman co-leader. On that score, it was interesting to see that Marama Davidson – number two on the party list – was not among the party's ministerial/undersecretary postings. This outcome will reduce any hopes Davidson might have entertained of succeeding Metrira Turei as woman co-leader. That race now seems to be between Julie Anne Genter and Eugenie Sage.
Re-inventing the Forest Service
One of the litmus tests for the rhetoric from the new government will be the commitment to re-create the NZ Forest Service. This is largely (but not only) a New Zealand First initiative, and will (presumably) be under the ministerial leadership of Fletcher Tabuteau Shane Jones and head-quartered in Rotorua. The initiative embodies NZF's aims for regional development. It will see the Crown actively involved in ensuring the greater domestic use of forestry resources, in adding value to our wood exports, in creating jobs in the regions and in integrating forestry within our responses to climate change.
For obvious reasons, the new Forest Service won't be the same sort of entity that planted, owned and managed the nation's forests, including in their recreational and conservation roles – all of which supported the jobs that were once the lifeblood of communities like Kawerau. That horse has since been encouraged to bolt. Cutting rights in much of those forests have been sold on 35 year rollover leases to foreigners who stripped out many of the formerly subsidised milling operations and jobs. Some 54% of logs cut here are now exported. Some of those foreign firms with cutting rights have been cutting down young trees while others have allegedly been reluctant to offer the work to local processors, in areas like Northland.
Ardern has already said – with respect to irrigation – that she will respect existing commitments. In similar fashion, the new government may struggle to restrict the latitude granted under the existing forestry leases. Some of the land on which cutting rights have been sold have become part of Waitangi Tribunal settlements. The Maori owners may need to be convinced about the value of foregoing their existing passive pattern of rental returns for the risk involved in adopting a shared (and ultimately more lucrative) form of investment in the likely returns from forestry, over time.
In other words, change will not come easy, or overnight. Arguably though, a more active form of forestry management could see useful gains from (a) a 'wood first' policy in say, the construction of government buildings (b) an enhanced role in replanting on government-owned land that would create employment, (c) counter the effects of land erosion evident in many parts of New Zealand (d) enable a greater amount of value-added local processing for export and (e) enable the better integration of forestry with this country's looming commitments on climate change.
As in so many other areas, the period of laissez fair and market solutions is over. We're living in interesting times. There will be a lot of media and market resistance from those with a vested interest in the status quo. But having voted for change, we'll also need the courage to embrace it when we see it.
And National…
Predictably, Bill English and Paula Bennett have been re-elected by the National caucus, un-opposed. Right now is not the time for open dissent and competition, which will come soon enough. True, English did lead his party to a solid outcome. If one totally ignored the fact that the political system changed nearly a quarter century ago, this was praiseworthy. What National failed to do – and John Key and Bill English can share the blame – was create the partnerships that are necessary under MMP, if anyone is to govern.
Instead it put time and energy into the failed projects – the Act Party, and the Maori Party – and gambled that if it needed to, it would win the support of New Zealand First. It didn't do much to ensure that outcome, and the gamble failed. Come 2020, it will still have no valid coalition partner, and will have to reach 50 % all on its own. Unless the Ardern government is a total failure, that's a recipe for a long time in opposition.
At some point, National's caucus is going to blame current management for that situation. True to form, Lyin' Bill is saying he'll be leader til 2020 'at least'. Fat chance.
Change Is Now…
Things that seemed to be solid are not. Here are the Byrds, urging us to get in line with harmony's sweet plan… if only because it's time to dance to the day when fear is gone.