Gordon Campbell on Malaysia exposing our China policies
Gordon Campbell on how Malaysia has exposed our dodgy policies towards China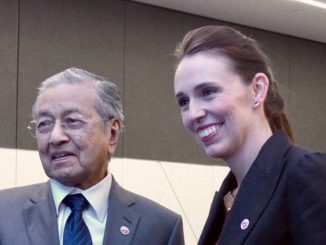 Last week, we all owed a vote of thanks to Malaysian PM Mahathir Mohamad for breaking with protocol during his bilateral meeting in Singapore with New Zealand PM Jacinda Ardern. Reportedly, Mahathir used the photo opportunity phase of the meeting – which usually involves just an exchange of smiles and pleasantries before the media is sent out of the room – to launch into matters of genuine substance. By doing so, Mahathir usefully exposed how New Zealand is trying to make a virtue out of sitting on the fence over the South China Sea dispute.
This forthright approach shouldn't have come as a surprise. Earlier this year Mahathir made it clear that he thinks the region has to do more than (a) welcome any and all forms of Chinese investment and (b) issue generalities about how everyone in the region needs to respect international law. In August, he denounced China's Belt and Road initiatives as a diplomatic strategy by which China was saddling some of the host countries with unsustainable levels of debt to Beijing.
That's also why… on coming to power in Malaysia, Mahathir immediately cancelled two China-financed mega-projects in the country (the US$20 billion East Coast Rail Link and two gas pipeline projects worth US$2.3 billion) on the grounds that his country couldn't afford those projects, and that they were not needed for the foreseeable, anyway.
Advertisement - scroll to continue reading
In line with this same approach, Mahathir opened his meeting with Ardern by calling on New Zealand to get more actively engaged in challenging China's strategies in the South China Sea – if only because we share a common interest in the freedom of navigation given the trade that passes through that area, and its vulnerable choke points. Subsequently however, Ardern defended New Zealand's neutral stance:
New Zealand's position on the issue had been "utterly consistent", and the country had never taken sides, she said, adding all claimants should uphold international law, and the law of the sea. Ardern said those involved should de-escalate tension and rely on dialogue to resolve the issue.
Calling on everyone to uphold international law certainly does sound virtuous, especially in the light of US President Donald Trump's attacks on multilateralism. Problem being though, international law ruled against China's claims in the South China Sea over two years ago, and China has subsequently ignored that ruling by the UN arbitral tribunal, and proceeded to militarise the islands and shoals in dispute.
So that horse bolted, quite some time ago. In late 2018, issuing calls for everyone to observe international law in the South China Sea just isn't a meaningful policy anymore. (For the record, the Trump administration isn't interested in ratifying the UN Convention of the Law of the Sea, either.) Basically, we are making an empty gesture that's likely (and is perhaps intended by MFAT) to be read by Beijing as a greenlight to proceed.
Urging China and the US to observe the laws they continue to flout is the figleaf that enables us to proceed as usual with our trading relationship with China. Hey, it's always nice to urge everyone else to play nice and observe the rules, but it doesn't amount to much of a foreign policy. Not when the big players continue to show no interest at all in observing those rules.
It does explain though, why the NZ media was being rushed out of the room… just as Mahathir was reportedly calling for China's neighbours to consider the stationing of warships in the area, in order to send a more telling signal about the region's resolve. In essence, Malaysia was asking for a tougher message that (arguably) may be more likely to convince China to exercise a greater degree of caution.
And the Defence spending…?
There is a bizarre aspect to us paying lip service to the rules of international law while shunning Mahathir's mention of warships. As the Australian Defence establishment has made amply evident, China is the only conceivable expansionist enemy in the Asia-Pacific region that can justify the massive sums being spent on Defence. To that end goal of China containment, New Zealand has already committed to spending circa $3 billion all up on buying and operationalizing the Orions replacement. The coalition government is also about to announce a similar multi-billion outlay on the C-130 Hercules replacements, and that's even before we get onto the cost of replacing the frigates, circa 2025. (But hey, $772 million is the absolute tops we can pay our primary schoolteachers!)
So… we're spending up massively on Defence gear, including the anti-submarine capacity in those new Poseidon aircraft aimed at deterring China's maritime expansionism… Yet when Mahathir suggests that Australia and New Zealand might actually use this military gear to send a symbolic diplomatic message to Beijing, we're… shocked, totally shocked! The assembled media must be rushed out of the room before they can be exposed to any more of such talk. When it comes to the South China Sea, successive New Zealand governments have preferred to put their fingers in their ears and go "la la la international law" so that we can continue to trade with China without unduly upsetting its delicate sensibilities.
Footnote : BTW, Mahathir has a strong track record of successfully challenging the common wisdom. In the late 1990s, he launched the first successful defiance of the IMF/neo-liberal consensus on economic policy:
In 1997, the Asian financial crisis which began in Thailand in mid 1997 threatened to devastate Malaysia. The value of the ringgit plummeted due to currency speculation, foreign investment fled, and the main stock exchange index fell by over 75 per cent. At the urging of the International Monetary Fund (IMF), the government cut government spending and raised interest rates, which only served to exacerbate the economic situation. In 1998, in a controversial approach Mahathir reversed this policy course in defiance of the IMF and his own deputy, Anwar. He increased government spending and fixed the ringgit to the US dollar. The result confounded his international critics and the IMF. Malaysia recovered from the crisis faster than its Southeast Asian neighbours. In the domestic sphere, it was a political triumph.
Footnote Two. Once again the funny shirt APEC meeting in Papua New Guinea has failed to answer the key question: what is APEC for, exactly? To use John Oliver's phrase, how is this expensive gathering still a thing, given that trade deals like the CCTPP and RCEP and various trade bilaterals are being negotiated outside and beyond APEC. This year, US President Donald Trump didn't even bother to show up at APEC. A guy who didn't want to get his hair mussed in the rain at the Armistice commemorations in Europe was never going to voluntarily get into one of those shirts.
For the first time ever, the APEC gathering failed to issue a joint communiqué afterwards, mainly because China and the US remain at loggerheads over trade. Still, at least Papua New Guinea got something in return for spending up large on a new conference hall, and on a new fleet of limousines. Namely, PNG scored a joint agreement with the US, New Zealand and Japan and Australia to vastly improve PNG's electricity infrastructure by 2030.
The need for the US, Japan and Australasia to take some steps to counter China's cheque-book diplomacy may have been focussed by the fact that China has already committed itself to spending $4 billion on improving PNG's roading infrastructure. In the end, APEC 2018 marked another diplomatic gain for China, as this report in the Japanese press indicates:
If it weren't for the loud Pacific Island shirts and the rugby league posts dotted around town, you could be forgiven for thinking that China was hosting this year's APEC summit. Giant billboards of a beaming Xi Jinping were erected around Port Moresby and, for his state visit, red Chinese flags fluttered the length of a new (China-funded) road inaugurated by the president himself.
That was not the only sign of Chinese largesse. He also opened a China-funded school and journalists (including a massive press corps from Beijing) were ferried around on buses provided by China Aid. With the American and Russian presidents deciding to skip the summit, Xi was the star of the show, receiving a warmer reception from business leaders for his speech calling for free trade than U.S. Vice President Mike Pence did for his combative remarks.
Macka B Rules
After 20 years of genial, idiosyncratically amusing tracks, the British-both Jamaican reggae star Macka B finally scored a massive viral hit last year with his one minute long freestyle homage to the sterling qualities of the lowly cucumber. You may have missed his equally brilliant hymn of praise to the virtues of the 45rpm record:
And just in case you're one of the three people in the developed world who haven't heard "Cucumba" here it is again:
Advertisement - scroll to continue reading