London Underground Bombings - July 2005 - Scoop.co.nz Full Coverage
MFAT and Red Cross Phone Nos.
Advisories….
TELECOM: Calling To United Kingdom Returning To Normal
&
London Bombings: MFAT Update 9 At 1045 8 July
Eyewitnesses:
Scoop would like New Zealanders in London to send us your account of the blasts,
click here to send text…
and
click here to send images and audio...
QUICKLINKS IN THIS PAGE:
Scoop News Coverage
Scoop Audio Coverage
Independent News Reports
Commentary
NZ MFAT Updates & Other Advisories
International Reaction
NZ Political Reaction
SCOOP NEWS COVERAGE:
NZ High Commission Names Victim Of London Bombing
- The New Zealand High Commission in London has been asked on behalf of the family of the missing New Zealand woman, to advise that she is believed to have been on one of the Underground trains involved in the bombings on 7 July, and is presumed to have died. See…
Missing NZ woman in London bombings named
Scoop Link: London Bomb Suspects Born And Bred Brits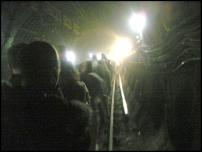 The Guardian has reported that four men believed to be responsible for the bomb attacks against London were born and bred Brits. The newspaper reports that four home-grown suicide bombers, three of them from West Yorkshire and none of them known to the police, carried out last Thursday's bomb attacks on London, police believe. The hunt is now on for the person who police believe may have masterminded the bombings and who may have already left the country.
See...
Police Hunt Mastermind Behind Home-Grown Bombers
ALSO:

SCOOP AUDIO:
BBC's FiveLive interview with former Scotland Yard officer Peter Power (Thursday 07-07-05)
Cross Party Condemnation Of Mosque Vandalism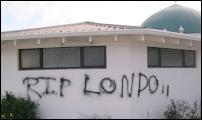 "New Zealanders across all communities are horrified by the terrorist attacks in London which are the work of evil people. But it is wrong to target the Muslim community here in retaliation. New Zealand's Muslim community like all New Zealand's communities is overwhelmingly a law abiding and peaceful community." See...
PM condemns attacks on mosques
ALSO
Image courtesy of Aotearoa Indymedia: Mosques attacked in Auckland
MORE:
Latest News:
Explosions Strike London Rush Hour Commuters - 52 Deaths Confirmed, 700+ Injured
London Police have confirmed 52 people have been killed and 700+ people have been injured after bomb attacks struck the Underground network and double-decker buses in London. In what appears to be the first major break in the London terrorist attacks, police may have discovered two unexploded bombs as they sifted through the wreckage of the four bombs that did go off. Scotland Yard has denied finding undetonated explosive devices in the wreckage. See
Scoop's news roundup...
John Howard Confirms More Dead In London Bombing
- Australian Prime Minister John Howard has confirmed 52 people have been killed and hundreds injured after bomb attacks struck the Underground network and double-decker buses in London. In what appears to be the first major break in the London terrorist attacks, police may have discovered two unexploded bombs as they sifted through the wreckage of the four bombs that did go off. Scotland Yard has denied finding undetonated explosive devices in the wreckage. See
Scoop's news roundup...
MORE BREAKING NEWS:
SCOOP AUDIO:
REPORTS:
Wikinews.org Reports Experts Say All The Hallmarks Of al-Qaeda
- Pundits are speculating the attack has been co-ordinated by al-Qaeda. Dr. Shane Brighton, an intelligence expert at the Royal United Services Institute for Defence, claims that, "If what we are looking at is a simultaneous bombing — and it does look like that — it would very certainly fit the classic al Qaeda methodology." A group called The Secret Organisation of al-Qaida in Europe have claimed responsibility for the blasts. See...
Wikinews: Coordinated Terrorist Attack In London
COMMENTARY:
Steve Weissman
Having lived in London during the IRA bombing campaign of the 1970s, I can feel a small part of the terror that bus and subway riders must have felt when the four bombs exploded on July 7, and again when only the detonators went off last week. ... See...
Weissman: Kill Them There, or They'll Kill Us Here
Ramzy Baroud
Barbaric. There is hardly any other term that is capable of depicting the murder of over 50 people and the wounding of hundreds more during London's rush hour on July 7. Unexpected, however is the least relevant term. See...
Ramzy Baroud: Barbaric But Not Unexpected
David Swanson
We write from the After Downing Street Dot Org Coalition in the United States to thank you for your solidarity on this third anniversary of a meeting that we were never meant to know about, a meeting that took place some yards from where you stand. ... See...
David Swanson: Dear London
Michel Chossudovsky
British investigators have uncovered that the "London bombers" had connections to a mysterious Pakistani engineer named Mohammed Naeem Noor Khan, also known as Abu Talha, who was allegedly behind last year's planned terror attack on Wall Street, ... See...
The London Bombers and "Al Qaeda's Webmaster"
M. Shahid Alam
It appears that Mr. Thomas Friedman has a Muslim problem. He has a great deal of trouble thinking straight when writing about Muslims; and, as the New York Times' resident expert on Islam, he displays this malaise frequently, often twice a week. See...
M. Shahid Alam: A Muslim Problem
Philip Challinor
Tony Blair, the Vicar of Downing Street, whom God appears to have blessed with telepathy, has informed his faithful that the London bombings were not motivated by opposition to the invasion of Iraq. That settles that, then. See...
Philip Challinor: Devilish Logic
Greg Palast
Well, it didn't take long, did it? In the USA, the curtain opened on new anti-terror follies Wednesday when three Senate committees, in blustery response to the London bombings, voted to extend the power of the FBI under the Patriot Act to obtain library ... See...
Greg Palast: It Didn't Take Long, Did It?
Iman al-Saadun (Iraq)
I'm sending this letter to the British people and in particular to the residents of London. For a period of hours, you have lived through moments of desperate anxiety and horror. In those hours you lost a member of your family or a friend, and we wish ... See...
To The British People From A Daughter Of Iraq
Greg Palast
The tooth fairy, Santa Clause, WorldCom profits, the Easter Bunny, al-Qaeda. The cruel, evil jerks who blew up the London subway last week, despite appropriating al-Qaeda's name for their website and T-shirts, have about as much to do with al-Qaeda ... See...
Greg Palast: George & Tony Get their al-Qaeda Fix
Kamala Sarup
The London attack will further enrage the US and western powers against terrorism and possibly unite them more in a common cause. Of course for peace and justice also. I hope that will be the case. See...
Kamala Sarup: London Attack And A Lasting Peace
Ivan Eland (United States)
Watching the major U.S. television networks after the London terror bombings provided little illumination about why that city was chosen for attack. The commentators on those networks first mimicked Tony Blair's self-serving "we're all in this together" ... See...
Ivan Eland: Why Did Terrorists Strike London?
Russell Brown & Che Tibby
There have been some behaviour issues in the local blogosphere since last Friday. In this thread alone on Labour stalwart Jordan Carter's blog, National Party member (and former office-holder) Tim Barclay claimed that the Labour Party "secretly hopes" that Sydney is hit by a terrorist attack… See...
Public Address 12/07/05 - Some Behaviour Issues
Am Johal
Only a few years ago as the Hutton Inquiry raged on in London in the humid summer months of 2003, the case of the suicide of their chief weapons inspector David Kelley was put under intense public scrutiny. The "sexed up" dossier had 10 Downing ... See...
Am Johal: London Calling
Steve McKinlay (New Zealand)
I think there are two thoughts we ought to seriously consider in respect of the terrorist bombings in London last week. Firstly, much media commentary has, in my opinion, vaulted to the naive conclusion that the bombings are Islamic fundamentalist ... See...
Steve McKinlay: The 'A' Bomb In Wardour Street
Antony Wright (London)
Today I nearly got blown to pieces on a London Tube (metro). I was one of the lucky ones - many others were not. See...
Antony Wright: Achieving Justice And Finding Peace
Stella Duffy (London), Graeme Douglas (London), Tze Ming Mok, Graham Reid' - Public Address
I think Ken Livingstone's speech was amazing, and I DO believe it's what most Londoners feel about London. That we (I was born here, though I spent all my childhood and youth in NZ and have now lived here longer than anywhere else) actively like being ... See...
Public Address: Not Anywhere Else In The World
Rosalea Barker (San Francisco)
It is 1998. I'm standing at the window of the staff cafeteria in an office building that overlooks the Wellington railway yards, where the Cake Tin is taking shape. The engineer I'm talking to is telling me with a faraway look in his eye that the ... See...
Stateside With Rosalea: Reality VG?
Mary Pitt (Kansas)
I called an old friend yesterday. I had been meaning to do so for some time, but the pressures of work and family had inteceded and it never seemed to be the right time. At one time, we were sisters-in-law, young, beautiful and dumb! We grew so ... See...
Mary Pitt: Those Marvelous Brits
Doug Giebel (United States)
Plucky Londoners interviewed on the BBC following the July 7 terrorist subway and bus bombings noted that the crisis had brought out the best in people. Strangers rushed to help the injured while some individuals risked their lives making rescue ... See...
Doug Giebel: Death And Cynicism
Genevieve Cora Fraser (United States)
Is World War III upon us : Did it start while we were glued : Watching news from the local channel : Nightline, Frontline, CNN or Fox : Did Charlie Rose announce the line-up : Of the predatory pack : Did Larry King look stern, advise us : Or are ... See...
Genevieve Cora Fraser: Is World War III Upon Us?
Steven A. Hass (United States)
So London was bombed. If you missed any of it, and I mean any of it, come to America and turn on a television. In the America of 2005, you can sit in front of a television after an event like this and have your gag reflex tested as the event is continuously ... See...
Steven A. Hass: Fortitude, British-Style
Green Left Weekly - Julian Coppens (London)
Riding the number 30 bus to the annual Marxism conference today, the day after a bus on that route was attacked, I caught a tiny glimpse of the terror in terrorism. When I went upstairs to sit down as usual, it was empty. See...
Green Left Weekly: Baghdad Comes To London
Green Left Weekly -
On July 7, some of the horrific consequences of the "war on terror" hit working-class Londoners. In a series of bomb blasts on the London tube and buses, more than 50 people were killed, and more than 700 injured, many losing limbs or suffering other ... See...
Green Left Weekly: Stop All The Terror!
Russell Brown
I lived in London in years when several terrorist bombings were carried out by the IRA. It was easy enough to be stoic; the odds weren't so bad. The King's Cross station fire in 1987 was actually worse... See...
Public Address 08/07/05 - Bloody Murder
Christiaan Briggs
Lucky for that "War on Terror" thing ay? My mother managed to phone me today from New Zealand, to check I hadn't been blown up. She advised that I take care with my words. The first hint I received of something amiss in London this morning was full ... See...
Christiaan Briggs: Chickens Come Home To Roost
William Rivers Pitt
A British associate penned a quick response to the bombing attacks that took place in London this morning. "The message from those claiming responsibility says, in part, 'Britain is now burning with fear, terror and panic in its northern, southern, ... See...
William Rivers Pitt: Over There
Peter Cresswell
"We are all Londoners today." Doesn't that describe the way all people with a soul feel this morning. The vibrant, tolerant city of London is today's front line in the battle for those western values that makes cities across the west the great places ...See…
Peter Cresswell : 'We Are All Londoners Today'
Deborah Coddington
Most of us will be glued to the television or radio today, listening for news about London, and effects of the senseless, mindless, irrational collectivism that motivates the fundamentalist and nihilist beliefs of the terrorists. How anyone can call these murderers "freedom fighters" is beyond me.
See...
Liberty Belle: The London Bombings
Stephen Franks
Last night's terrorism uncovered scars I'd never seen on a Chinese friend I've known for nearly 20 years. See...
Unfranked Terrorism: When ends justify means
MFAT UPDATES & OTHER ADVISORIES:
The High Commission has now visited the three hospitals which received the largest number of casualties. While there is still no indication of New Zealand casualties, the process of checking patient lists and nationalities is still in train. The High Commission expects that it will take some time to establish this information through the casualty services bureau.
London Bombings: MFAT Update 9 At 1045 8 July
EARLIER:
INTERNATIONAL REACTION:

Tony Blair: "It's reasonably clear that there have been a series of terrorist attacks in London.
There are obviously casualties both people who have died, people seriously injured, and our thoughts and prayers of course are with the victims and their families. It's my intention to leave the G8 within the next couple of hours and go down to London and get a report face to face with the police and the emergency services and the ministers that have been dealing with this, and then to return later this evening." See…
Blair Issues Statement (Verbatim)
United Kingdom & G8 Leaders
US State Department
United Nations
More International Reaction
NEW ZEALAND POLITICAL REACTION:
Prime Minister Helen Clark
Prime Minister Helen Clark said tonight that she has been in direct contact with the New Zealand High Commission in London following news of terrorist attacks in London. Helen Clark said she was shocked by the attacks and has asked the New Zealand ... See...
NZ Prime Minister's Response to London Blasts
New Zealand National Party
"This is a very sad day, not just for London but for people and nations around the world committed to freedom and justice." See...
Brash condemns terrorism
and
Bombings Will Strengthen The West's Resolve
ACT New Zealand
ACT Leader Rodney Hide today condemned the terrorist attacks on London and extended his deepest sympathy to the victims and their families. See...
ACT condemns terrorist attacks
Green Party
There is no cause important enough to justify the killing and maiming of innocent people, The Green Party says. See...
No cause can justify terrorist bombs - Greens
New Zealand First Party
New Zealand First leader Rt Hon Winston Peters has described yesterday's terrorist attacks in central London as cold, calculated mass murder. See...
London's Terrorist Attacks Hate-Filled
United Future NZ Party
United Future utterly abhors and condemns the cruel, senseless terrorist attacks on the people of London, and shares their grief, United Future leader Peter Dunne said today See...
United Future condemns London bombers
The Maori Party
The Maori Party expresses our deepest sympathies to all who have been affected by the tragic events as they have unwound in London this week. See...
Maori Party Expresses Sympathy to Bombing Victims
More Reaction
ENDS